The dangers of children having tablets, screens or cell phones in their child seats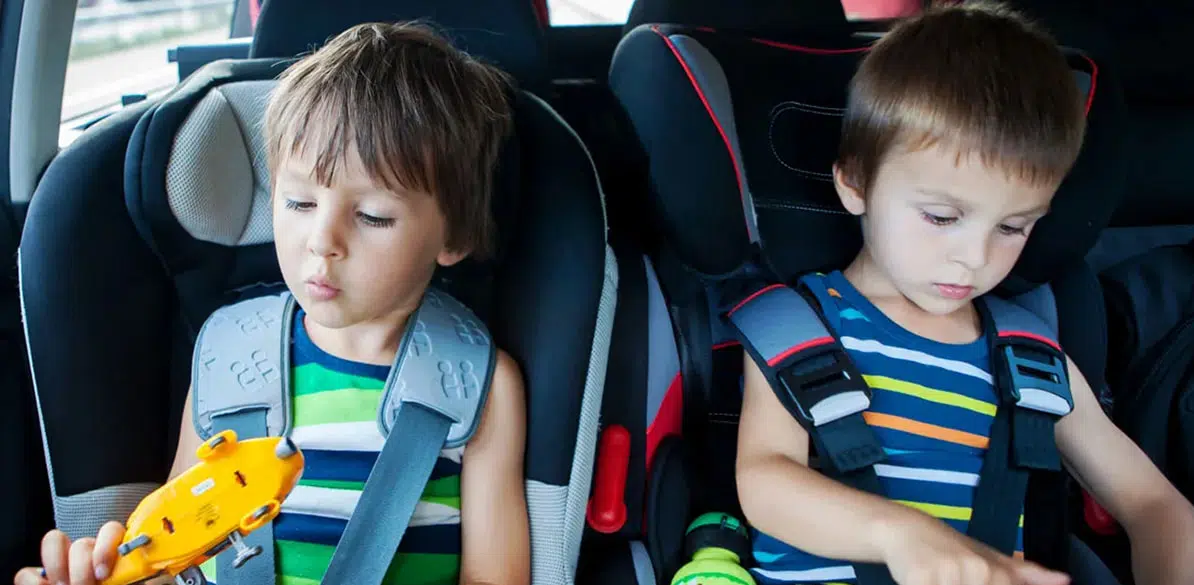 You probably always make sure that your child is correctly positioned in the back seat, with an approved child restraint system adapted to your child's size and weight, that the child seat is correctly installed and that your child is securely fastened. The child car seat is rear-facing. Nevertheless, you might leave loose items in the vehicle or not stow them properly. Imagine your child is using a tablet to entertain him- or herself during the journey. Are you aware of how dangerous this could be?
The dangers of loose items
Did you know that any loose object inside the vehicle can be projected against any of the occupants, increasing its weight by up to forty times at just 50 km/h? According to the Spanish Directorate-General for Traffic, for example, a games console weighing only 218 grams could weigh up to 7.8 kg if we apply the brakes or have an accident at 50 km/h. When braking at 90 km/h, the console's weight would be 25 kg. In the case of a 560 g tablet, its weight could go up to 23 kg in the event of sudden braking at 50 km/h and up to 75 kg if braking occurs at 90 km/h, which would be the equivalent of a St. Bernard dog directly crashing into one of the passengers.
The same is also true for toys, however light you may think they are. In fact, the child car seat itself should be properly anchored even if the child is not in it, since it could also come flying out.
Well secured items in inappropriate places
It is not enough to firmly secure objects in the vehicle, you must also be very careful about where you stow them. The back of the headrest (or the front in the case of rear-facing child seats) is not the most suitable place. The child could be hit on the head by one of these items if, for whatever reason, the child car seat is not properly secured or does not react as it should do.
Preventing children from being projected out and hitting a vehicle's windows is a major concern. This is one of the reasons why children must travel in the rear seats. However, all these security measures are useless if there are items that could compromise their safety, such as tablets on headrests as mentioned above, screens on backrests or folding trays. The child should not, in principle, crash into the backrest but, if this were to happen, it is preferable that they do so against something cushioned rather than against a hard screen.
This is how children should travel
The current law in Spain states that in vehicles with up to nine seats, including the driver's seat, children who are equal to or smaller than 135 cm in height must travel on the rear seats using an approved child restraint system suitable for their height and weight. Only three exceptions can be made:
If the vehicle does not have any rear seats.
If all the rear seats are already occupied by other children in their respective child restraint systems.
If child restraint systems cannot be installed in those seats.
Furthermore, you should install the child car seat and secure your child according to the manufacturer's instructions in the manual or brochure.
In addition, if the child has to sit in a front seat and the vehicle has a front airbag, rear-facing child seats may only be used if the airbag has been disabled.
The best idea is for children to travel in a rear-facing position for as long as possible and at least until they are 4 years old.