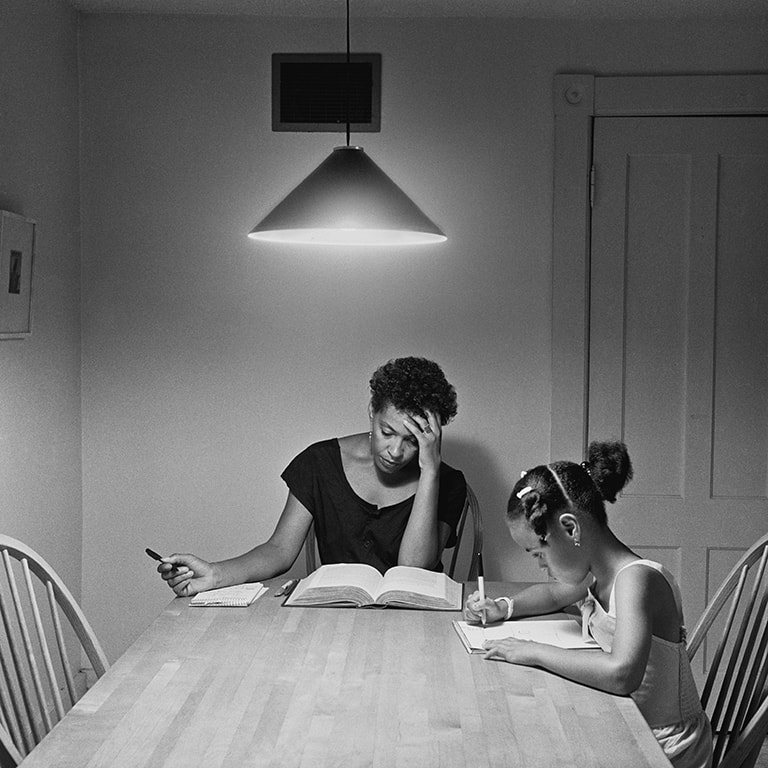 Carrie Mae Weems
Untitled (Woman with daughter). From the Kitchen Table series, 1990
© Carrie Mae Weems, courtesy of Jack Shainman Gallery, New York, and Galerie Barbara Thumm, Berlin
Carrie Mae Weems
KBr Photography Center, Fundación MAPFRE (Barcelona)
Multidisciplinary artist Carrie Mae Weems (Oregon, 1953) is best known for the photographic work she has been creating for nearly forty years. This exhibition takes a chronological look at her entire body of work and aims to highlight the way in which Weems approaches photography as an artist ahead of her time, always projecting her images into the future with an unflagging sense of hope.
From her first photographs, focused on family and friends, she gradually develops a broader vision that challenges history and stereotypes while questioning those who exercise power over people who are unable to defend themselves. Weems' images speak of violence that is exercised deliberately, but at the same time leaves room for scenes of intimacy and love.
Exhibition held in collaboration with Fotocolectania, a space where you can also see other projects by the artist.
Sílvia Parés
Owning the Weather, 2019-2020
© Sílvia Parés
KBr Flama 2022
KBr Photography Center, Fundación MAPFRE (Barcelona)
The Fundación MAPFRE KBr annual appointment with emerging creation and the next generation of photographers who are embarking on their professional careers after having been trained in Barcelona is back. This year's exhibition will include projects by Nanouch Congost (Girona, 1999), Guillermo Fernández (Granada, 1991), Jordi Miquel Riera (Girona, 1977) and Sílvia Parés (Vic, 1997), selected from among students at the schools of Grisart, Idep Barcelona, IEFC and Elisava, Faculty of Design and Engineering in Barcelona. The judging panel for the viewing and selection process of this edition was made up of Horacio Fernández, Carles Guerra, Joana Hurtado and Arianna Rinaldo.
In collaboration with the photography schools: Grisart, Idep Barcelona, IEFC and Elisava, Faculty of Design and Engineering in Barcelona.
Pablo Picasso
La femme au jardin, Printemps, 1930
© Sucesión Pablo Picasso. VEGAP, Madrid, 2022
Julio González, Pablo Picasso and the Dematerialisation of Sculpture
Fundación MAPFRE Recoletos Exhibition Hall (Madrid)
In 1928, Picasso, then inexperienced in ironwork, asked his friend Julio González to help him with a project for a funerary monument to the poet Guillaume Apollinaire. The two then tackled the creation of a dematerialized sculpture project, "a profound statue of nothing, like poetry, like glory". This collaboration has traditionally been studied as the genesis of a new type of sculpture, in iron, which dominated the art scene throughout the middle decades of the 20th century. This exhibition goes beyond that well-known approach to delve deeper into the general context in which the metal sculpture of the 1920s developed and to show, moreover, that the artistic affinities and common concerns of both creators were not limited to that brief period, but began in the modernist Barcelona of the early 20th century and continued for years in Paris until the death of Gonzalez in 1942.
Ilse Bing
French Can Can Dancer, 1931
Galerie Karsten Greve. St. Moritz / Paris / Köln
© Estate of Ilse Bing
Ilse Bing
Fundación MAPFRE Recoletos Exhibition Hall (Madrid)
The work of German photographer Ilse Bing (1899-1998) is difficult to classify. The innovative gaze projected by her images responded to a modern vision, indebted to the impact of the Bauhaus, in which strong contrasts of light and shadow, diagonal angles, plunging and low-angle framing, and solarization predominate.
The exhibition includes nearly 200 works that chronologically span a somewhat short career, from 1929 to the end of the 1950s, but in which Bing addressed a wide range of essential issues in photographic language.
If you were unable to visit one of our exhibitions, or you would like to revisit the feelings you experienced when viewing a particular work, you can do so here in our past exhibitions section.