The heart and soul of the project: changing the lives of patients with spinal cord injuries
A ground-breaking therapy to improve the quality of life of people affected by spinal cord injury has been approved
In the 1990s, Dr. Vaquero, who began carrying out his first tests on animals, sought funding for a clinical trial to treat spinal cord injury with cell therapy. This neurosurgeon and his team have received unconditional support for their project from Fundación MAPFRE.
Over the last two decades we have had the privilege of witnessing the hard work and progress of this research project. Today we are proud to see that the NC1 drug, developed by Dr. Vaquero's research team, has received the approval of the Spanish Agency of Medicines to carry out this cell therapy. This is the first advanced therapy and non-industrially manufactured drug to be authorized in Spain for use in hospitals, and therefore represents an important milestone in medicine. This long-awaited news is a source of hope for people suffering from spinal cord injuries.
In its first year, around 30 patients with incomplete spinal cord injury due to damage to their spine and certain complete dorsal and lumbar spine injuries will be able to benefit from this treatment which uses the patients own stem cells. The number of patients will gradually rise over the following years, in a process which is dependent on submitting regular reports and an assessment of the outcomes.
In the previous stages of the clinical trial patients have improved feeling and spasticity (muscle stiffness), they have regained some sphincter control and in some cases have improved sexual function and neuropathic pain (abnormal pain perception). There has also been a slight improvement in some patient's motor function. Although they cannot walk, they are able to move muscles that were previously paralyzed.
The stem cell extraction process as well as their harvesting and implantation is carried out by highly qualified professionals at the Hospital Universitario Puerta de Hierro facilities in Majadahonda.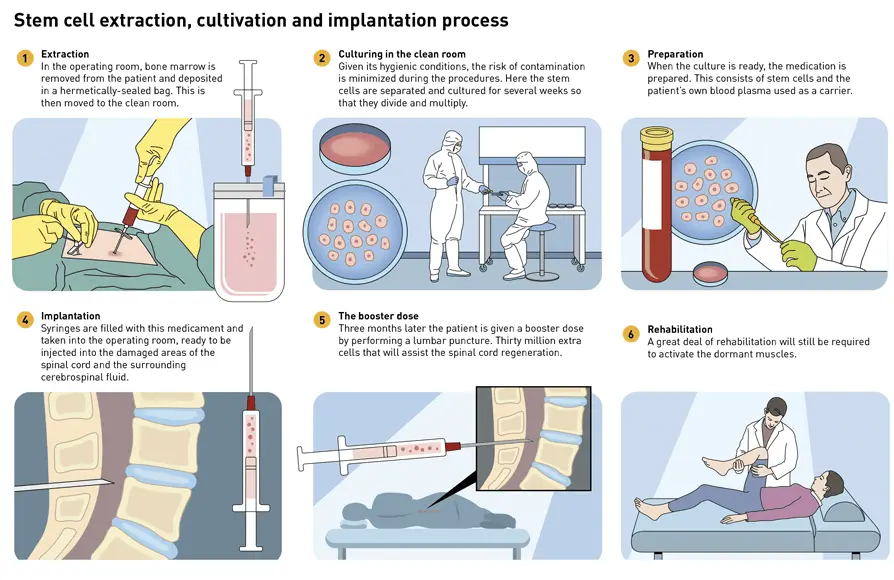 In order to select and prioritize the patients who are going to receive this therapy, the Hospital Puerta del Hierro has set up a multidisciplinary Selection Committee of health care professionals.
At the event held on 1 March at the Hospital Universitario Puerta de Hierro, Dr. Jesús Vaquero, the head of research, outlined the details of this therapy and its application as a treatment. He was accompanied by Ignacio Baeza, Vice President of Fundación MAPFRE, the president of the Community of Madrid, Ángel Garrido; the President of the Fundación Rafael del Pino, María del Pino; the managing director of Hospital Puerta de Hierro, Ricardo Herranz; the president of the Asociación Nacional de Informadores de la Salud (National Association of Health Reporters), Emilio De Benito; and Andrés Herrera, a patient with spinal cord injury who received cell therapy in the clinical trial.
"We are extremely grateful" declared the neurosurgeon, "Fundación MAPFRE, who have been the heart and soul of this project, have backed us for so many years and we have also had the support of other public and private institutions such as the Fundación Rafael del Pinio".
When this research first started, this neurosurgeon knew they had a long road ahead, but he never gave up. "Now", as he himself acknowledges, "the door is open".
At Fundación MAPFRE, we actively work on accident prevention and safety, given that road accidents are usually the cause of these kinds of injuries, and we are also fully committed to inclusion programs for people with disabilities in order to offer a second chance to people with spinal cord injuries.