The mobility of the future
Fundación MAPFRE, a benchmark in defining safe mobility for the coming decades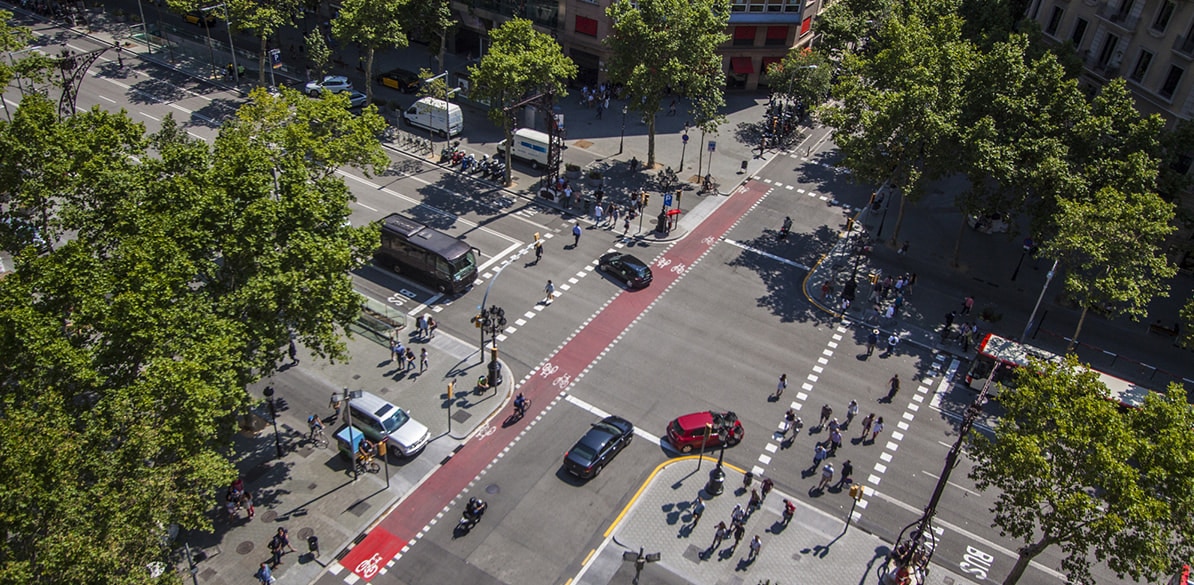 People at the heart of action. This is the main focus of the proposals that Fundación MAPFRE has presented to the Road Safety Commission of the Spanish House of Representatives in order to take an important step forward in terms of the safety of road users. The ultimate objective of the measures we have proposed is to achieve Goal Zero by 2050, and a 50% reduction in deaths and serious injuries by 2030.
Over the last year, together with other experts, we have participated in a round of appearances at the House of Representatives, where we have contributed our experience and knowledge. The result makes us a reference in the field of road safety: of the 244 measures included in the 2021-2030 Road Safety Strategy Report, 42 were proposed by Fundación MAPFRE.
Where is road safety heading?
Based on the premise that a traffic accident should never be considered an accident, since the vast majority are the result of well-known risk factors that can be eliminated or minimized, our proposals for a new safe, healthy and sustainable mobility are based on an essential element: education. We promote education for life and throughout life. From encouraging the presence of road safety in the classroom to promoting the exemplary role of adults and seniors.
Improving driver training, working on ensuring compliance with the rules, and redirecting the behavior of repeat offenders are some of the key aspects that will also help us to achieve a victim-free future on the roads.
It is also important to make progress in terms of traffic injury prevention in the workplace. Companies have an important role to play in putting an end to an alarming accident rate (74% of traffic accidents occur during commuting, or in itinere), but the authorities must also support the promotion of occupational road safety in companies and organizations. This was the case, for example, a few years ago with social security contribution deductions for companies that implemented measures to promote occupational road safety, or their commitment in this area was recognized in tenders.
Our proposals also include measures to improve vehicle safety. The use of technology could reduce serious and fatal injuries by 50%. For this reason, we consider it essential to promote new driving assistance technologies, through support for the renewal of Spain's vehicle fleet, campaigns to raise awareness of their correct use, their benefits and limitations, and the fight against carelessness in technical inspections.
Electric bicycles and scooters are not toys, they are vehicles. Promoting safe infrastructure for their use, providing specific training to their riders as well as to motor vehicle drivers (so that they can empathize with the most vulnerable users), continuing to promote the use of helmets in the case of bicycles and making this mandatory for scooters, and also incorporating safety technologies in bikes and scooters are some of our proposals to prevent the accident rate of these vulnerable users from continuing to increase. Indeed, the mandatory use of helmets on electric scooters has already been approved by Congress and comes into force in March.
Improving the condition of our roads can significantly impact the accident rate. Among other measures, we propose an independent maintenance audit to check the state of the Spanish network, work on the elimination of accident-prone stretches, and a generalized deployment of the recent Recommendations for Safe and Sustainable Urban Mobility as well as the Recommendations for Improving of Road Safety in Interurban Environments prepared by the Spanish Directorate-General for Traffic (DGT) in 2021.
As if these measures were not ambitious enough, we believe that it is also necessary to continue working on speed control and generate greater awareness in society of the dangers of speeding, even in the most minor and everyday situations, promoting the use of intelligent speed adaptation technologies, making citizens aware of the importance of avoiding distractions (including those caused by hands-free devices), and integrating urban mobility methods such as sharing and the growth of delivery fleets.
We know that there is still a long way to go, but every step we take brings us closer to Goal Zero. Fundación MAPFRE has been working on safe, healthy and sustainable mobility for more than 25 years. We have educated more than 3 million children in 20 countries and have carried out more than 100 studies that have served as a working basis for organizations and governments. We are proud to have been able to participate in defining the road safety strategy in our country for the coming decades and we will continue working to educate and raise awareness in society. We want to ensure that by the year 2050 there will be no casualties or serious injuries on our roads and highways: a clear and challenging goal, but possible.