Francisco José Marco Orenes
Board member of MAPFRE and Corporate General Manager of the Business Support Area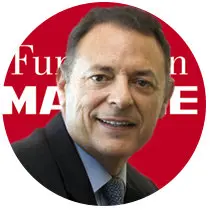 Personal details:
Name: Francisco José Marco Orenes.
Date and place of birth: 25 November 1957 in Orihuela (Alicante).
Education:
Graduate in Medicine and Surgery (University of Murcia).
Specialist qualification in Geriatrics from the University of Murcia and in Nutrition from the University of Granada.
Master's Degree in Business Management and Administration (IADE Business School).
Main positions of responsibility:
Board member of MAPFRE (since March 2017).
Corporate General Manager of the Business Support Area (since January 2015).
Chairman of FUNESPAÑA (since 2012).
Most recent previous positions:
Executive Vice Chairman of MAPFRE España (from November 2013 to December 2014).
Chairman of MAPFRE EMPRESAS (from May 2012 to March 2014).
Chairman of the Automobile Insurance Committee of UNESPA (from 2009 to 2014).
Vice Chairman-Managing Director of MAPFRE FAMILIAR (from 2008 to 2013).
Managing Director of MAPFRE CAJASALUD (from 2007 to 2008).
Executive Chairman of MAPFRE PERU (from 2002 to 2007).
Chairman of the Spanish Chamber of Commerce in Perú (from 2002 to 2007).
Vice Chairman of the Peruvian Association of Insurance Companies (from 2005 to 2007).
President of CATALUNYACAIXA SEGUROS GENERALES, BANKINTER SEGUROS GENERALES and IBERICAR.
Main Recognitions:
The Order of Isabella the Catholic (2007).