Emergency and recovery by bicycle
Living through bicycle against CORONA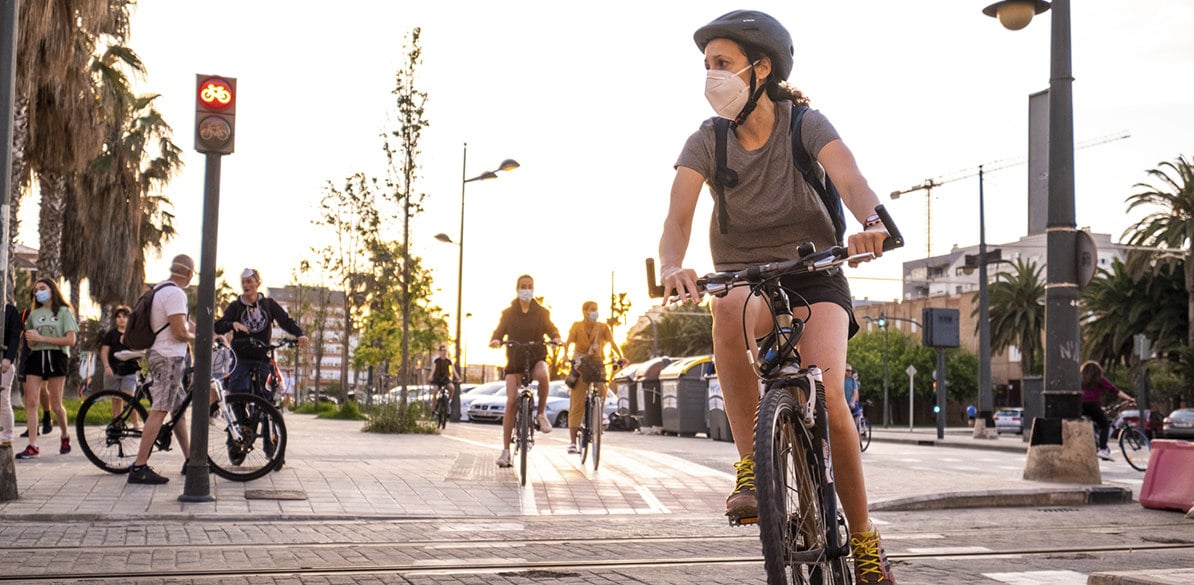 In one of their statements about the corona crisis, in April, the World Health Organization said "…people might still have a need to move around cities to reach their workplaces when possible, meet essential daily needs or provide assistance to vulnerable people. Whenever feasible, consider riding bicycles or walking: this provides physical distancing while helping to meet the minimum requirement for daily physical activity, which may be more difficult due to increased teleworking, and limited access to sport and other recreational activities''.
This was most likely good news for a lot of urban planners, environmental experts, but especially for people who work with bicycles. It certainly was for small bike shops that fix, sell and rent bikes, as well as thousands of bike messengers.
The growth of young people that start to work with apps like iFood, Uber Eats and Rappi have increased in the last 3 years. Research from Aliança Bikes on July 2019 shows that 90% of these workers receive less than minimum wage. They are from the more vulnerable areas from Sao Paulo, 71% are black or people of colour, have a total 9h of work per day and receive R$ 936 per month, which is the equivalent of living on 150 dollars. But more than 40% decide to work these jobs because they love to cycle. For many, it is also their first job and one of the only form they have to make money. With more collaboration, we can make these jobs more professional. In the beginning of 2020, we worked with other organizations and had a city law approved, with increased regulations and good practices for the cycle-logistics sector.
Another recent action started was the PEDAL AGAINST CORONA campaign. We planned 2 weeks of activities aimed at carrying out a campaign to combat the proliferation of the virus. This was focused on bicycle deliveries to communities, with the use of the bicycle as an instrument to enhance communication in the territories. With sponsorship of Caloi, in June we´ll have a team of cyclists that distribute hygiene kits and masks to delivery personnel. We will also be linked to an awareness conversation, which will explain in a clear and simple way the risks of the virus and the necessary procedures for personal and family prevention. Along with the kit, a flyer will be delivered with the guidelines indicated by cyclists. We will also provide a review of one hundred bicycles, involving mechanics professionals who participated in Living Through Bike (or Viver de Bike in portuguese), one of the Aromeiazero programs.
One of our former Viver de Bike participants, Rogerio Ferreira is the owner of Central Bikes, a bike shop that had a 40% increase in sales(2), selling cheap second hand bikes and renting bicycles for small businesses. Some little restaurants keep the business running (and all the employees) by starting deliveries by bike. Essential services and supermarkets in the outskirts are creating delivery jobs. In Aromeiazero institute we help them to use bicycles in their business, to show how cheap and efficient it is to deliver their products. We also believe that more people can work. There are 300.000 restaurants in Brazil, we are trying to estimate how many jobs could be created.
In Brazil we faced one of our biggest crises. A human, social, politic and economic crisis all at once and something that challenges thousand of NGOs, while we face the possibility of being the global center of the COVID-19 epidemic. To help people to stay at home, delivery services are fundamental. Today we see even more people delivering foods and other things through bicycles. That's why we're running to deliver communications and educational contents, to help more people to deliver a better future for the planet.
Murilo Casagrande is Brazilian, from São Paulo, and despite his love for bicycles during childhood, found on skateboarding the freedom of the streets and ten years ago reconnected with cycling. Unhappy with his career in marketing did post-graduate studies in Educomunicação (Media Education) at the University of São Paulo, and lived in Lisbon, were falling in love again with cycling. In 2011, with his savings and with more three friends, Aromeiazero Institute, an organization that promotes the bicycle as an instrument of social transformation has had its experience presented as one of the keynote speakers in Velo-City Rio 2018. Now he's Director of Institutional Development, responsible for fundraise, communications and official gardener of the office´s plants.