It's time to take action
After a one-year hiatus, we celebrate the award ceremony of our 2020 Social Outreach Awards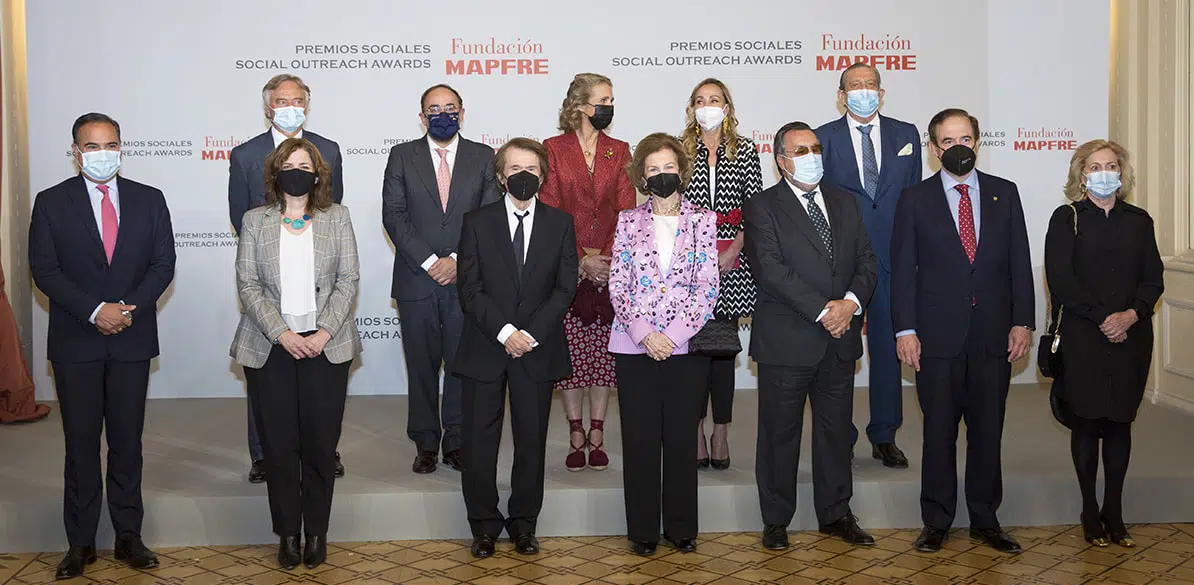 After a pandemic that has ravaged the world, at a time when many vulnerable people have seen their situation worsened by the social and economic crisis caused by the COVID-19 outbreak, we feel obligated to speak of commitment, dedication and unity to improve the lives of others. As a result, the ceremony of our Social Outreach Awards, once again with the presence of Queen Sofia, has taken on a greater significance. Today, it is more necessary than ever to recognize exemplary people and organisations that have made time to share and help, and that act beyond their duties thinking of others.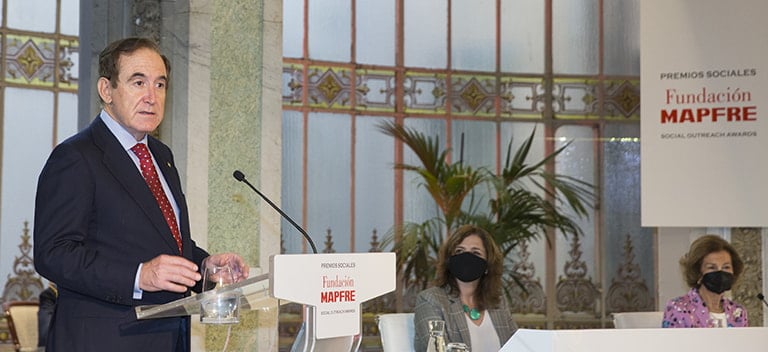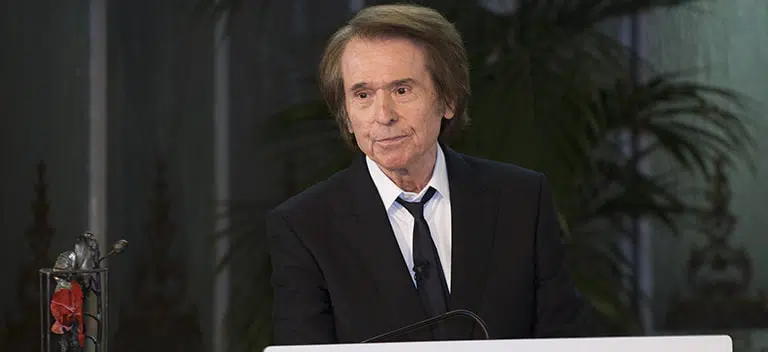 This was stated by Antonio Huertas, chairman of MAPFRE and Fundación MAPFRE, during his speech. He added that the recipients of this edition, who have been selected from over 1,200 nominations received from Europe, America, Africa and Asia, "have taught us how to be better citizens, better people and companies, and better societies".
For Rafael Martos, known artistically as Raphael, who received the José Manuel Martínez Martínez Lifetime Achievement Award, "social awareness and commitment to the common good should be present in each of our actions; especially for those people, companies, etc., who have a privileged situation that allows them to help others"..
Miguel Carballeda, president of Grupo Social ONCE, upon receiving the Award for the Entity with the Best Social Track Record, emphasized that "we have a duty to citizens that trusts us every day because they know that our key principle – hope – won't allow us to leave anyone behind".
This commitment to society is also a priority for Catalina Escobar, creator of Juanfe Foundation's 360º Social Development Model project, who received the Award for the Project with the Best Social Impact. In his speech, she highlighted how "Our work goes far beyond touching people's lives. Our work is to generate virtuous circles as examples of what ought to be, and to elevate our reputation because a country like Colombia deserves to have models that set a global example"..
Research and its importance for society also had a part in this award ceremony. Abel Veiga of the Universidad Pontificia de Comillas and author of the paper Seguro y tecnología (Insurance and technology). The necessary connection between technology and contract law received the X Julio Castelo Matrán International Insurance Award. "Researchers, including professors, must work for mutual understanding, knowing that legitimate disagreement brings us closer to compromise, to the meeting point, which is none other than to work and give the best of ourselves to knowledge and to our social environment," he said.
Once again, our Social Outreach Awards highlight the importance of the work of people and organisations that selflessly help make this world a better place for everyone.Their actions have a great social impact.Their example and dedication make us stronger.