Child Road Safety in public transport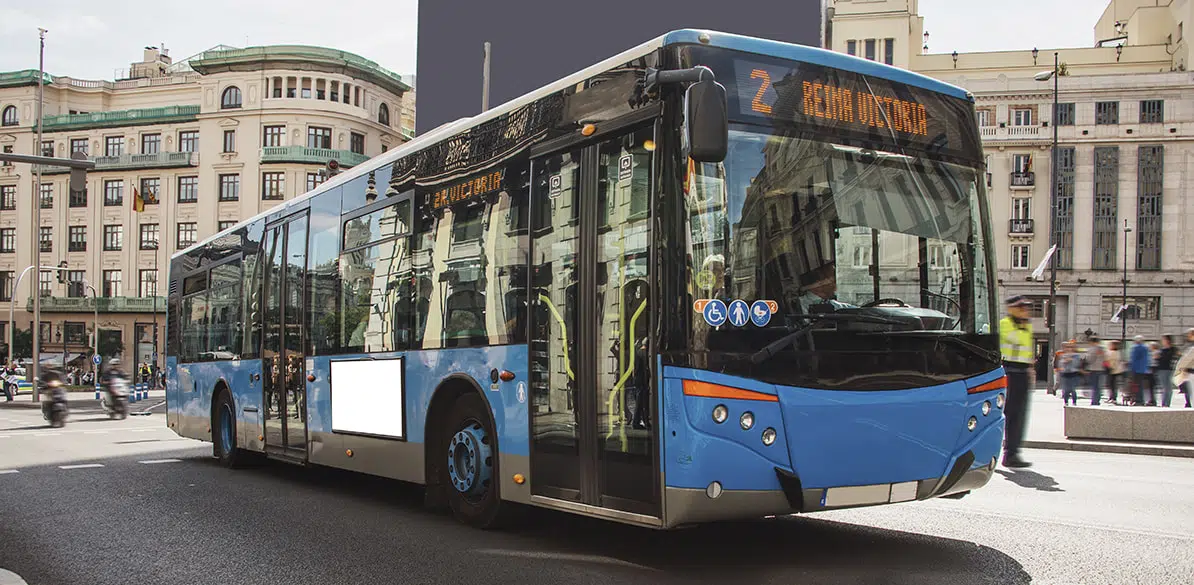 Madrid is the flagship of the public transport sector in Spain. The fleet of buses belonging to Madrid's Municipal Transport Company (EMT) carried a total of 405,923,047 passengers in 2015. This figure underlines the huge demand for local buses in Madrid and gives an idea of the many possible transport needs their users may have. In this respect, the question is: What services does EMT offer to parents or caregivers travelling with babies? How can you guarantee the safety of your child on local trips?
The Child Road Safety regulations do not contain any specific rules about city bus services. The average journey time on EMT buses is 20 minutes. During the trip, it is the parent or caregiver's responsibility to guarantee the baby's safety, whether they decide to leave the child in the stroller or use the certified baby seat provided by the bus company.
If you decide to keep the baby in the stroller.
If you decide to travel on an EMT bus with your own stroller, you should bear in mind that the company allows both single and double strollers (whether tandem or parallel) depending on the occupancy level of the bus. At present, EMT runs two types of buses.
Buses with a simple central platform.
Only one baby stroller per bus is allowed, provided that there is not already a wheelchair or another stroller on board.
Buses with an extended central platform.
Up to two strollers may be allowed simultaneously, or one wheelchair and one stroller.
Strollers must be positioned in the central platform with the brake applied.
The baby must travel rear-facing, properly secured with the harness.
Double strollers in which the children travel facing each other are not allowed.
It is important that, while taking these precautionary measures to ensure the child's safety, the adult must also bear in mind several aspects. As you will have to stand upright to keep an eye on your baby, you must hold on to the bar or the seat backs so as not to lose stability in the event of braking or a sudden change of direction that could cause you to fall on your baby.
Since 2008, all the new buses joining the fleet have been designed so that two strollers can travel simultaneously on the central platform and, due to the demands of users, the space is also enabled for double strollers, a further advantage for these users with special needs. Today, there are 945 EMT buses in Madrid with this extended central platform to provide the best possible service for bus users. This represents half of the entire fleet.
EMT is currently planning to launch 200 new buses which will require the manufacturer to install a double platform designed to carry two strollers, two wheelchairs, or one stroller and one wheelchair at the same time.
If you decide to use the bus's baby seat
Since 2008, every new bus in the EMT fleet is equipped with fully approved baby seats on board as a child restraint system. Today, there are 615 buses, of a total fleet of 1900, with this service. The baby seats are all rear-facing and are suitable for babies up to 18 months weighing a maximum of 30 kilos.
EMT's work on accessibility has been recognised on two occasions by CERMI (Spanish Committee of Representatives of Persons with Disabilities) who have praised the policies of EMT for guaranteeing more accessible services for the mobility of users with strollers and people with special mobility needs, wheelchair users, etc.
As prevention is the most important thing, if you are going to travel by bus with children, whether on city or intercity buses, we recommend that you look for more advice in the article "If you travel by bus, here is what you can do to make your child's journey safer".