From Infinite to zero. This is how we did it
A collective reflection on road safety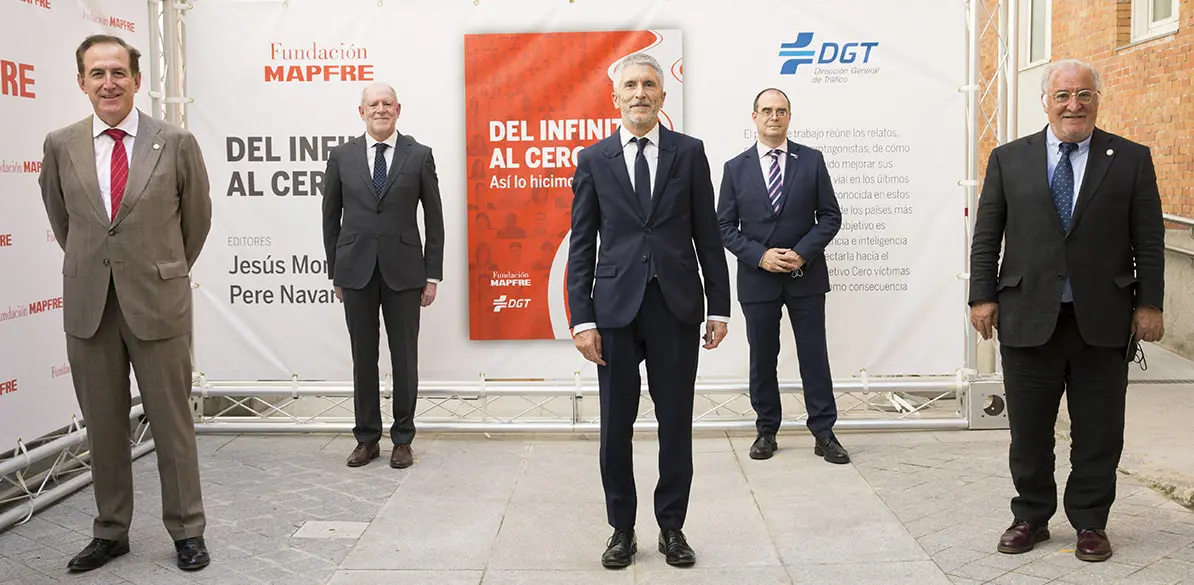 In front, from left to right: Antonio Huertas (Chairman of MAPFRE and Fundación MAPFRE); Minister of the Interior; and General Director of Traffic;
Behind, from left to right: Julio Domingo, director of Fundación MAPFRE and Jesus Monclús, director of Prevention and Road Safety of Fundación MAPFRE.
Over the last 25 years, Fundación MAPFRE has carried out a great number of initiatives in the field of road safety, and we feel part of the achievements and very committed to all that remains to be done to get to Goal Zero serious and fatal victims in cities by 2030 and in rural areas by 2050.
With our sights set on Goal Zero, this publication compiles more than 40 contributions on how our country has managed to considerably improve its safety levels in the last 30 years, analyzing the collective experience and intelligence and projecting them towards a future in which there are no victims caused by mobility, neither in Spain nor in the rest of the world's countries.
Throughout its 574 pages, the authors detail their reflections on the past and their proposals for the future, focusing on the following topics: the human factor, technology (vehicles, roads, intelligent traffic systems, etc.) and finally, politics, society, victim associations and citizens.
At the presentation ceremony, held on June 16, we had the privilege of having the presence of:
Fernando Grande Marlaska, Minister of the Interior, Government of Spain.
Antonio Huertas, Chairman of MAPFRE and Fundación MAPFRE.
Jesús Monclús, Fundación MAPFRE Director of Accident Prevention and Road Safety.
Pere Navarro, General Director of the Spanish Traffic Agency (Dirección General de Tráfico).
Jeanne Picard, president of the Ibero-American Federation of Victims Associations Against Road Violence (FICVI) and joint founder of STOP Accidentes.
Yolanda Domenech, director of the Prevention of Traffic Accidents Association, P(A)T, and member of the board of directors of the European Federation of Road Traffic Victims, FEVR.
In recent decades, Spain has become a worldwide reference for its outstanding reduction in the number of traffic fatalities: an 81% decrease since 1989 and 69% between 2001 and 2019. And this has been possible thanks to a common effort, to Government teamwork, the Traffic Agency (DGT), private companies and victims' associations, putting society at the center, as an actor and driver of change.
Access the publication and join us on this journey through Spanish road safety, which must include a tribute to all the victims we have not been able to avoid.