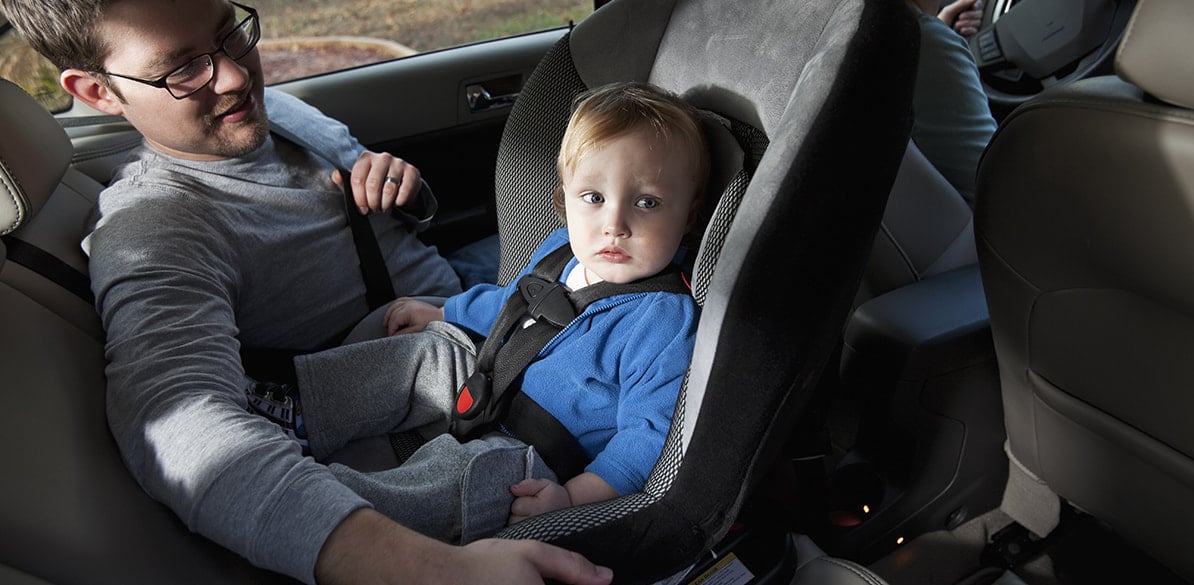 The Plus Test is one of the most widely-recognized endorsements on an international level in terms of children's road safety. The tests are conducted in Sweden and if there is one thing for which the Swedes are known it is their absolute rigor in everything that relates to the safety of children.
If a child restraint system (CRS) has the Plus Test mark it means that it has successfully passed the rigorous Swedish tests.
We should not forget that the neck is the child's most vulnerable spot, especially in the case of traffic accidents. Indeed, these tests focus on checking the stresses that the occupant would have to withstand (i.e. the child) in the event of a head-on collision.
For all these reasons we can state that the Plus Test mark is a guarantee that the child's neck will not be exposed to extreme forces, provided that the manufacturer's installation instructions are followed to the letter.
It should be noted that manufacturers submit their products for this testing voluntarily and the test does not replace but rather complements the European R44 and ECE R129 standards.
Child car seats that have passed the Plus Test have the following label: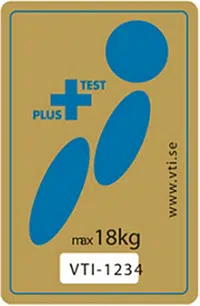 There are two versions of the label, one for a maximum weight of 18 kilos and the other for 25 kilos.
The seats that are subjected to these tests are from Groups I and II, aimed especially for children aged one to six years old and weighing 9 to 25 kilos.
The tests are conducted by the VTI (Swedish National Road and Transport Safety), the Transport Research Institute, and the NTF (National Society of Road Safety).
If, during a head-on collision scenario, the child seat exceeds 122 kgf (1,220 Newton) in terms of force exerted on the neck, it will not be given the Plus Test stamp.
It is, indeed, the rear-facing child restraint systems that have the Plus Test mark, as they offer greater protection in the event of a frontal impact.
As you can see in our infographic (390 KB), a rear-facing child seat can avoid up to 80 percent of injuries, providing particular protection for the head, neck and spinal column. This is why Fundación MAPFRE insists on recommending that children should use rear-facing seats for as long as possible, provided that their physical condition permits.
Important differences
Test at 56 km/h but with braking deceleration of 38 g (for European certification it is 50 km/h and between 20 and 28 g).
Therefore the Plus Test crash tests involve a higher speed and greater energy.
Particular attention is paid to the cervical load of the child in the accident. This stress is measured in the neck.
Chairs with the Plus Test mark
| MODEL | GROUP / HEIGHT | WEIGHT | NOTES |
| --- | --- | --- | --- |
| Akta Graco Belogic | I/II | Maximum 25 kilos | Rear-facing |
| Akta Graco DuoLogic 2 | 0/I | Maximum 18 kilos | Base mounted and rear-facing |
| Axkid Minikid | I/II | Maximum 25 kilos | Rear-facing |
| Axkid Rekid | I/II | Maximum 18 kilos | Rear-facing. With ISOFIX. |
| Axkid Wolmax | I/II | Maximum 25 kilos | Rear-facing |
| Britax Hi-Way | 0/I | Maximum 18 kilos | Rear-facing |
| Britax Hi-Way II | 0+/I/II | Maximum 25 kilos | Rear-facing |
| Britax Hi-Fix/Way Fix II | 0+/I | Maximum 18 kilos | Rear-facing |
| Britax Maxway | I/II | Maximum 25 kilos | Rear-facing |
| Britax Dualfix M i-Size | i-Size (61-105 cm) | | Rear-facing |
| Concord Reverso i-Size, 105 cm | i-Size (105 cm) | Maximum 18 kilos | Rear-facing |
| Concord Reverso Plus, 105 cm | i-Size (40-105 cm) | Maximum 18 kilos | Rear-facing |
| HTS BeSafe iZi Kid X1 i-Size, 105 cm | i-Size (105 cm) | Maximum 18 kilos | Rear-facing |
| HTS BeSafe iZi Kid X2 i-Size, 105 cm | i-Size (105 cm) | Maximum 18 kilos | Rear-facing |
| HTS BeSafe iZi Kid X3 | 0+/I | Maximum 18 kilos | Rear-facing |
| HTS BeSafe iZi Modular RF i-Size, 105 cm | i-Size (105 cm) | | Rear-facing |
| HTS BeSafe iZi Plus | 0+/I/II | Maximum 25 kilos | Rear-facing |
| HTS BeSafe iZi Kid Isofix X1 | i-Size (105 cm) | Maximum 18 kilos | Rear-facing |
| HTS BeSafe iZi Kid X2 | i-Size (105 cm) | Maximum 18 kilos | Rear-facing |
| HTS BeSafe iZi Kid i-Size, 105 cm | i-Size (105 cm) | Maximum 18 kilos | Rear-facing |
| Klippan OY Kiss 2 Plus | 0+/I | Maximum 18 kilos | Rear-facing |
| Klippan Century | I/II | Maximum 25 kilos | Rear-facing |
| Klippan Uno WOB | I | Maximum 18 kilos | Rear-facing |
| Maxi-Cosi Pearl XP i-SIze, 105 cm | i-Size (105 cm) | Maximum 18 kilos | Rear-facing |
| Swingfix i-Size | i-Size (40-105 cm) | Maximum 18 kilos | Rear-facing. With ISOFIX |
| Nuna (RWF) | i-Size (105 cm) | | Rear-facing. With ISOFIX |
| Aerofix (RWF) | i-Size (105 cm) | Maximum 18 kilos | Rear-facing. With ISOFIX |
| BabySafe | 0+/I | Maximum 18 kilos | Rear-facing |
| Bambini | 0+/I | Maximum 18 kilos | Rear-facing |
| Bammax | 0+/I | Maximum 18 kilos | Rear-facing |
| Beemoo | 0+/I | Maximum 18 kilos | Rear-facing |
| Bitema 39-810 | 0+/I | Maximum 18 kilos | Rear-facing |
| Silla de coche Volvo (Britax) | I/II | Maximum 25 kilos | Rear-facing |
| Siglo | I/II | Maximum 25 kilos | Rear-facing |
| Meinkind MK666S | 0+/I | Maximum 18 kilos | Rear-facing |