ADAS Aftermarket systems
Systems that prevent distractions at the wheel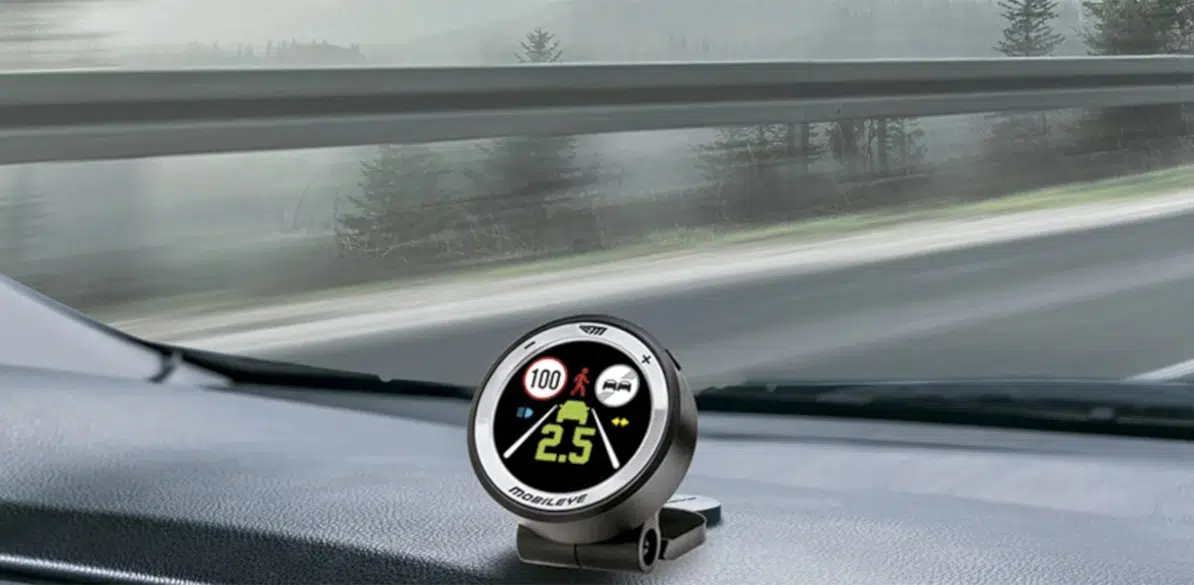 Features
These do not affect the vehicle, but instead they alert the driver and it is the driver who must take action. They are aftermarket systems, in other words, they can be installed in most vehicles once they have left the factory.
Objective
They prevent or limit the damage caused by a collision by helping drivers at the moment of greatest risk. Aftermarket systems work by preventing distractions.
The system identifies potentially dangerous situations thanks to the front camera, and generates audiovisual alerts.
The system described above is the Mobileye 6 which has the following features:
Operation / safety functions
Head-on collision alert: identifies light and heavy vehicles.
Warning of possible collision with the vehicle in front: up to 2.7 seconds before the collision, giving the driver enough time to react and avoid the collision.
Warning of collision with pedestrians or cyclists: by means of acoustic and visual signals, it gives a warning up to 2 seconds before the possible collision with a pedestrian or cyclist.
Head-on collision alert in an urban environment: warning of collision while driving at low speed, avoiding bumper-to-bumper collisions (traffic lights, crossroads, traffic jams and roundabouts).
Lane departure or involuntary lane change alert: acoustic and visual signals warn the driver when an involuntary lane departure is detected.
Distance to the vehicle in front: uses acoustic and visual signals to warn that the car is too close to the vehicle in front.
Traffic sign recognition: classifies traffic signs and informs the driver. This function also includes the SLI System that informs the driver and warns about speed limits, including electronic gantry signs.
Components
Optical camera with recognition function.
Alert display.
Effectiveness
According to a study by the General Directorate of Traffic, aftermarket ADAS systems reduce the risk of frontal collisions by 95% and reduce the risk of other collisions by 60%.
They can be installed in almost all types of vehicles (new or already in circulation) and assist the driver in real time in the event of dangerous situations.
Collisions avoided
Head-on collisions.
Collisions due to involuntary lane departure or lane change.
Collisions involving pedestrians.
Collisions involving cyclists.
Cost
The price varies according to the scalability.
The Mobileye 6 Series system costs 710 € + installation (VAT not included).
Mandatory
As it is an aftermarket system, it is not mandatory and it is not scheduled to become mandatory.