Learn about road accident statistics in Spain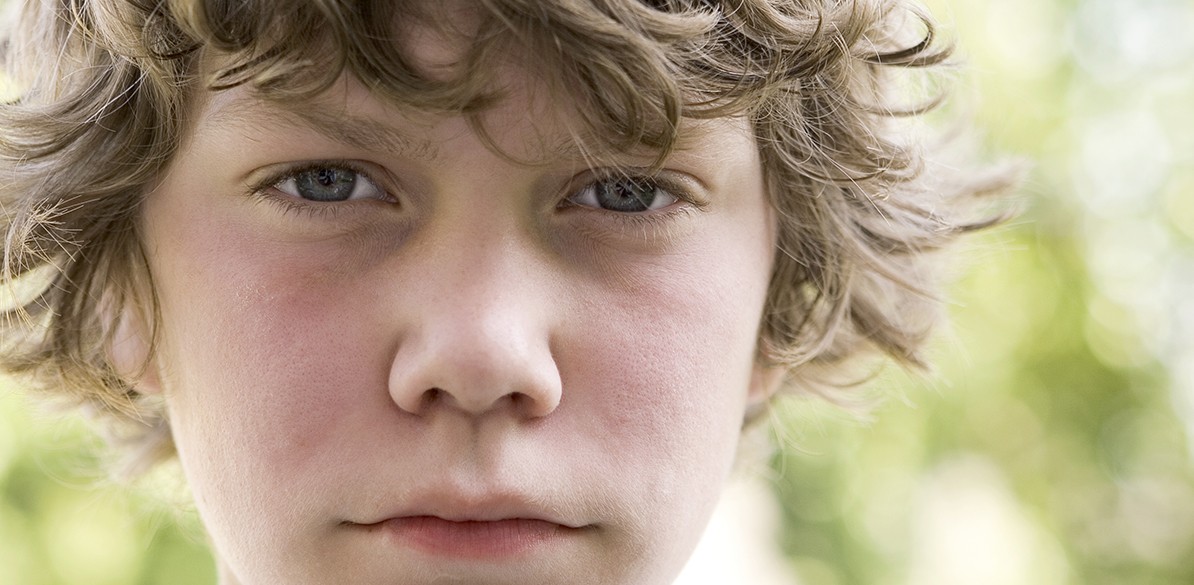 Statistics help us learn about the percentage of road traffic accidents and act accordingly. According to UNICEF, 250,000 children and adolescents around the world are killed in road traffic crashes every year, and another 10 million are seriously injured. In many OECD countries (Organisation for Economic Co-operation and Development), road traffic accidents are the leading cause of death among children under 15 years of age.
The number of children killed on the road every year in these countries has been halved between 1984 and 2000. However, one child in every 2,100 will die in a road traffic accident before he or she reaches the age of 15.
In Spain, these figures are smaller but equally devastating for many families.
Discover all the statistics
Traffic accidents are the leading external cause of child deaths in Spain.From 1990 to 2015, between 33 % and 50 % of children who died in Spain due to external causes were victims of road traffic accidents.In 2019, a total of 32 children under the age of 14 died in Spain as a result of a road traffic accident.Furthermore, the after-effects or disabilities often significantly affect injured children throughout their lives as a result of accidents of this kind. The total number of children killed and seriously injured in road traffic crashes in Spain in 2020 was 322.
The fatality rate for children under the age of 14 was 0.5 that year, while for the rest of the population it was 1.3. The child fatality rate per million inhabitants was 5, but it reached 43 for the other age groups.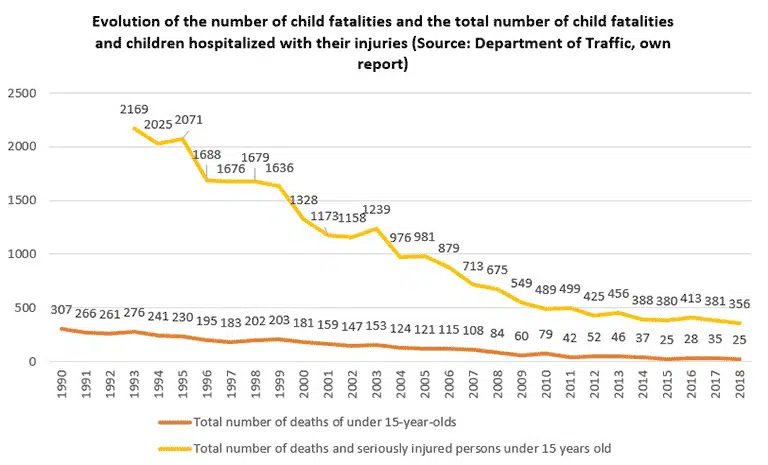 Statistics in Spain
In Spain, the majority of children under 15 years of age who died in road traffic accidents in 2019 were travelling in passenger cars or vans, or on foot.
It should be noted that in 2019, 53 % of those killed were in passenger cars, while 38 % were pedestrians. 3 % of victims under the age of 15 travelled in vans and trucks that weighed up to 3,500 kg and another 3 % travelled in a bicycle.
In terms of serious injuries, 53 % of children under the age of 15 who were seriously injured in road traffic accidents were pedestrians. 29 % per cent were passengers in a car and 10 % were travelling in a bicycle.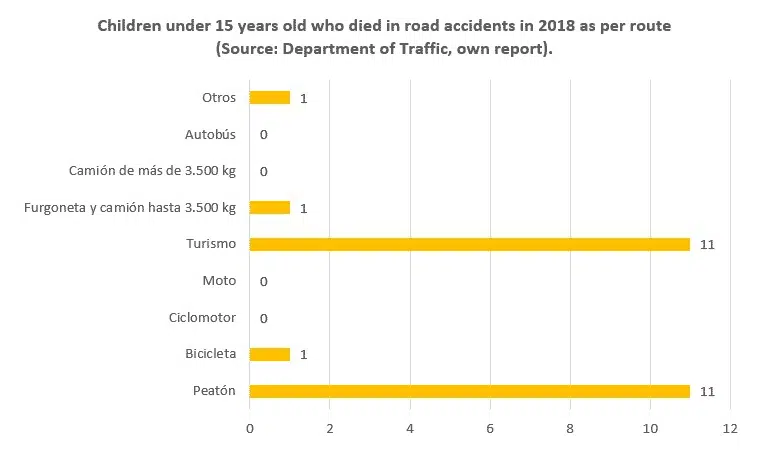 Accidents and injuries
In general, the body areas where children are most frequently injured in road traffic crashes, as concluded by CREST – a European research project –, and the key preventive measures in each case, are:
Age of the victim
Injured body area (injury)
Key preventive measure
Up to the age of 2
Neck
(cervical spine fractures and dislocations)
Use a rear-facing seat to avoid relative displacement of the head and thorax in the event of a frontal crash.
Ages 2 to 4
Head
(skull and facial fractures, brain injuries)
Remove any slack when installing the car seat in the vehicle and when securing the child in the car seat with the safety harness in order to prevent the child from hitting the back of the front seat.
Ages 4 to 10
Abdomen
(internal injuries)
Place the pelvic or lower lap belt over the upper pelvic bones and never over the softer areas of the abdomen.
Please remember: speed is a key factor in the risk of injury. In the event of a road traffic crash against a fixed, rigid object, driving at 30 km/h is equivalent to falling from a first-floor window (about 3 metres high), while driving at 120 km/h is equivalent to falling from an eighteenth-floor window. Therefore, such simple acts as buckling up when getting into a vehicle, securing a child properly in a certified child-restraint system appropriate to its weight and height, or wearing a helmet when riding a motorcycle or a bicycle would have saved at least half of the victims that failed to use these safety devices.
WE MUST INSIST. This is extremely important: children must travel in a child car seat, even if driving only at 50 km/h. THE IMPACT SPEED IS EQUIVALENT TO FALLING FROM A THIRD-FLOOR WINDOW!