External Member of the Board of Trustees of Fundación MAPFRE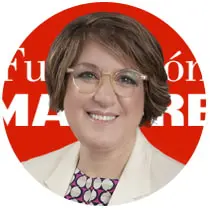 Personal details:
Name and surnames: Inmaculada Riera i Reñé.
Place and date of birth: Barcelona, October 31, 1960.
Education:
Degree in Law from the University of Barcelona.
Diploma in Comparative Law from the University of Strasbourg.
Studies in International Politics and Economics at the University of Florence.
Senior Management Business Program diploma (PADE) from IESE.
Foreign Exchange Market Diploma, London.
Main positions:
Director-General of the Spanish Chamber of Commerce (September 2015 – present).
Vice President of the INCYDE Foundation (Foundation of Chambers of Commerce) (September 2015 – present).
Other positions:
Board Member of ICEX (Spanish Institute of Foreign Trade, Ministry of Industry, Trade and Tourism).
Board Member of Trea.
She has held management positions in the departments of Treasury, Markets and Finance, as well as International, Corporate and Business Banking, in a number of financial institutions in Italy and Spain, most notably: Banca del Salento (Grupo Monte Paschi di Siena), Caja de Ahorros de Venecia (Italy), Banco San Paolo (Spain), Grupo Instituto Bancario San Paolo di Torino (Italy).
Director responsible for the consultancy and financial advisory department at the national level at Arthur Andersen and PwC.
Between 1984 and 1997 she spent various long-term assignments in several financial institutions, especially in the UK and the USA; these financial entities included: IBSPT, New York; Credit Commerciale de France, New York; American Express, New York; Swiss Bank Corporation, New York; Merrill Lynch, London; Hambros Bank, London; UBS, Lugano; Corner Bank, Lugano.
Lecturer in economics and finance at the Bocconi University of Milan, ICCRI (Italian Institute of Chambers of Commerce), ESADE in Spain, and the University of Barcelona (guest lecturer).
She has participated as a speaker at seminars and events both nationally and internationally (Singapore, India, USA, UK, etc.).
She has published various articles in economic and financial magazines and media in both Spain and Italy.
Co-director of the financial journal FINLETTER edited by Arthur Andersen and AFI (International Financial Analysts).
Member of the Italian Forex Club, the Spanish Forex Club, and the Financial Markets Association (ACI).
Member of the Congress of Deputies, representing the CIU party, in the VII, IX and X Legislatures. During these legislatures, she held the following positions:
Vice President of the Economy and Finance Committee.
President of the Privatization Subcommittee.
Spokesperson of the Toledo Pact Subcommittee.
Spokesperson of the Science and Innovation Committee.
Spokesperson of the Industry, Energy, Tourism and Telecommunications Committee.
Spokesperson of the Economy and Competitiveness Committee.
Member of the Spanish Parliamentary Delegation at OECD meetings and the Interparliamentary meetings of the ESA (European Space Agency) since 2008.
Member of the Board of Trustees of Casa Asia and the Council on Foundations.
Franco Passari Award, 1991 (Forex, Italy).
Jury member of the Rei Jaume I Prize, 2014.
AMEC Diploma 2009 (in recognition of her contribution to internationalization).
Official Association of Telecommunications Engineers Award, 2014 (General Telecommunications Law).