General Manager of Fundación MAPFRE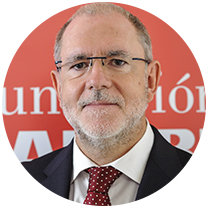 Personal Details:
Full Name: Julio Domingo Souto.
Date and place of birth: March 10, 1960 in A Coruña.
Education:
Executive MBA from the University of Alcalá de Henares.
Main positions:
General Manager of Fundación MAPFRE.
Previous positions:
Executive President of MAPFRE La Seguridad de Venezuela (from 2012 to 2015).
Director Vice President of MAPFRE BHD in the Dominican Republic (from 2012 to 2014).
President and Operations Manager of MAPFRE CHILE. Director of Caja Reaseguradora de Chile. (from 2007 to 2011).
President of the Official Spanish Chamber of Commerce of Chile.
Technical Director of MAPFRE TEPEYAC in Mexico (2005 to 2006).
Regional Manager of MAPFRE SEGUROS GENERALES. (2000 to 2004).