Fundación MAPFRE and Fundación Reina Sofía united in supporting Alzheimer's research
We attended the award ceremony for two new scholarships for young researchers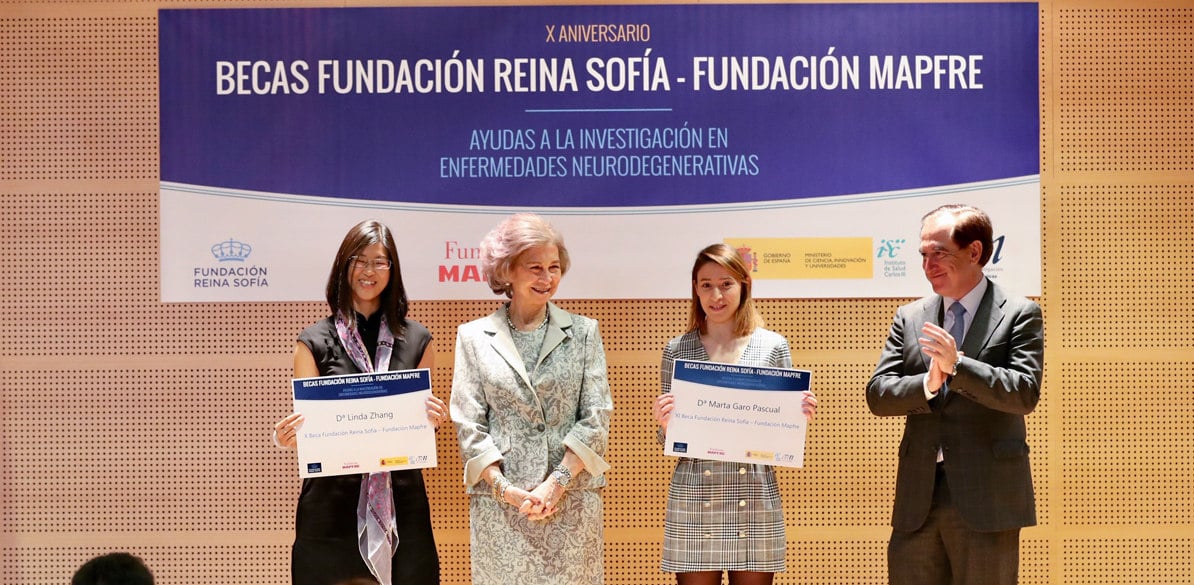 "There are certain challenges for which we need to step up our efforts, such as Alzheimer's, the memory loss disease. This is an unresolved issue which we are steadily making headway with thanks to the excellent research teams who are fighting on a daily basis to uncover the key to reversing this disease process". These words by Antonio Huertas, president of Fundación MAPFRE, during the scholarship award ceremony for young researchers focused on the important role of research in discovering how this disease works.
Linda Zhang, a psychologist specializing in human biology and a doctor in Diagnostic Radiology, who will be carrying out her stay at the University of Eastern Finland, and Marta Garo Pascual, biologist and neuroscientist, who will be spending a year at the Jena University Hospital in Germany, are the two researchers who have received these new scholarships from Queen Sofia.
Alzheimer's disease is one of the Fundación Reina Sofía's main lines of work and they also have their own research center, the Centro Alzheimer Fundación Reina Sofía. Together with Fundación MAPFRE, and with the collaboration of Fundación CIEN (Centro de Investigación de Enfermedades Neurológicas) (Neurological Diseases Research Center), a decade ago a scholarship program for young researchers in the biomedical field was rolled out which was aimed at the applied clinical research of neurodegenerative diseases and early diagnosis of dementia and Alzheimer's.
The aim of these scholarships is to promote multidisciplinary research and post-doctoral training, to help put the recipient of the scholarship in touch with institutional best practices and to fund a 12-month research stay at highly prestigious centers.
The award ceremony was also attended by María Dolores Moreno, The Community of Madrid Social Policy and Families Minister; Carlos González, General Director of Atención a la Dependencia y al Mayor (Care for Dependents and the Elderly); José Luis Nogueira, Secretary and board member of the Fundación Reina Sofía, and María Ángeles Pérez, director of Fundación CIEN.
Since its creation over a decade ago, Fundación Reina Sofía–Fundación MAPFRE has supported more than 12 applied clinical research and and scientific study projects in the international arena through grants totaling more than 350,000 euros.
Offering 32,000 euros each year, this scholarship has enabled young researchers to gain access to world renowned centers such as Mount Sinai School of Medicine in New York, Case Western University (Ohio), New York University School of Medicine and the Royal College of Surgeons (Dublin).