Risks with children in the car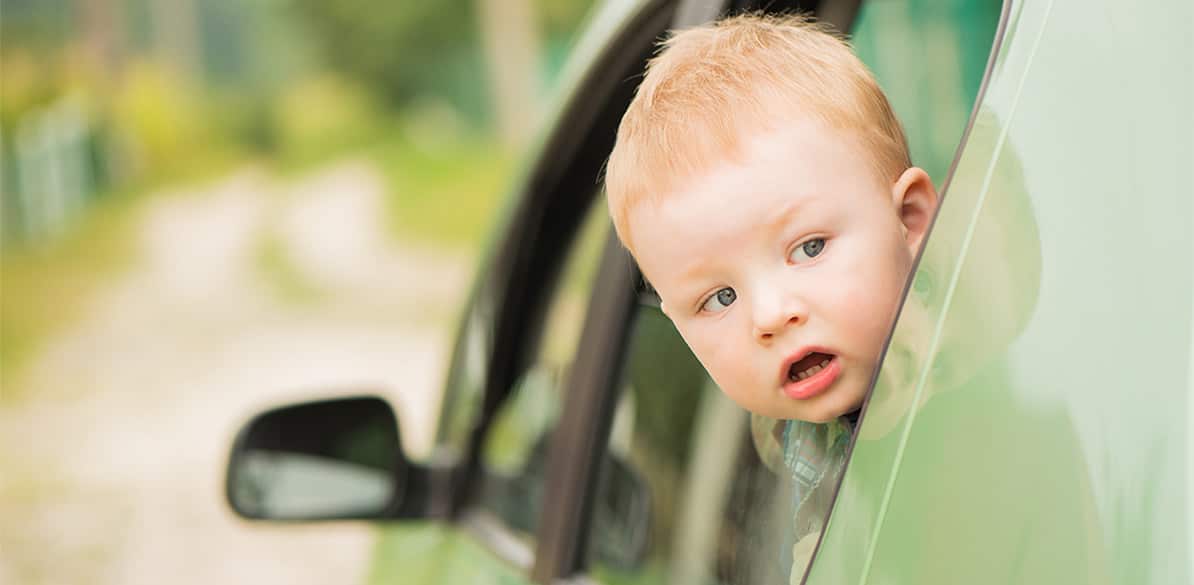 Backward maneuvers
It is possible for a child to be in a blind spot, beyond the field of vision of your mirrors. In real life, it is very easy to be hit and seriously injured when someone is reversing out of a parking lot or garage.
To avoid this, make sure that there are no children nearby and, if there are, tell them to stand in front or to the side of the vehicle at a safe distance where they can be seen. Having the help of another person outside the vehicle can be very helpful as well.
It is important to ensure that any maneuver is always safe. Even if the vehicle has a rearview camera or rear obstacle detection system.
Heat stroke
Sometimes, adults leave children inside the vehicle , for example, if they pop out to buy bread, thinking that they are not in any danger. Watch out!
Every year at least one child dies from being left inside a car in the sun. In summer, the interior temperature of a vehicle can go up by 20º in just 60 seconds, easily reaching 80 or 90ºC. Even in winter, in full sun, the interior of the cabin may reach 30º or even 40ºC. It is much harder for children than adults to regulate their body temperature, especially the youngest ones.
Children can also climb into a vehicle themselves and then not be able to reopen the doors or roll the windows down. They must be taught that vehicles are not a playground, and that they should never enter one on their own.
You should NEVER leave a child alone in the car, not even with the windows slightly open, no matter how quick you will be.
Power windows
A child's neck is an extremely fragile part of their anatomy that can easily be injured. A child should never be left alone in a vehicle (and even less so if the keys are in or the engine is running), and they must be taught not to use the power windows on their own.
Many vehicles have rear door lock controls in the driver's position, as well as anti-pinch systems that detect when a window traps an object, arm, and so on, and automatically proceeds to lower it.
Children must always sit in the appropriate car seat and be buckled in; this also makes it more difficult for them to operate the windows.
Children trapped in the trunk
Children are naturally curious and like to explore and hide. If a child hides in a trunk and closes it, the consequences can be very serious: the temperature may rise to a dangerous level in just a few moments, or the child could suffocate.
Children should be made aware that the trunk is not a playground, and that it can be very dangerous. Never leave the car unlocked, not even in the garage at home, or leave it with the rear seats folded down (through which children could access the trunk).
Some vehicles have a mechanism marked with fluorescent paint that allows the trunk to be opened from the inside. You should definitely consider this safety option when selecting a family vehicle.