Motorcycle jackets: How to pick yours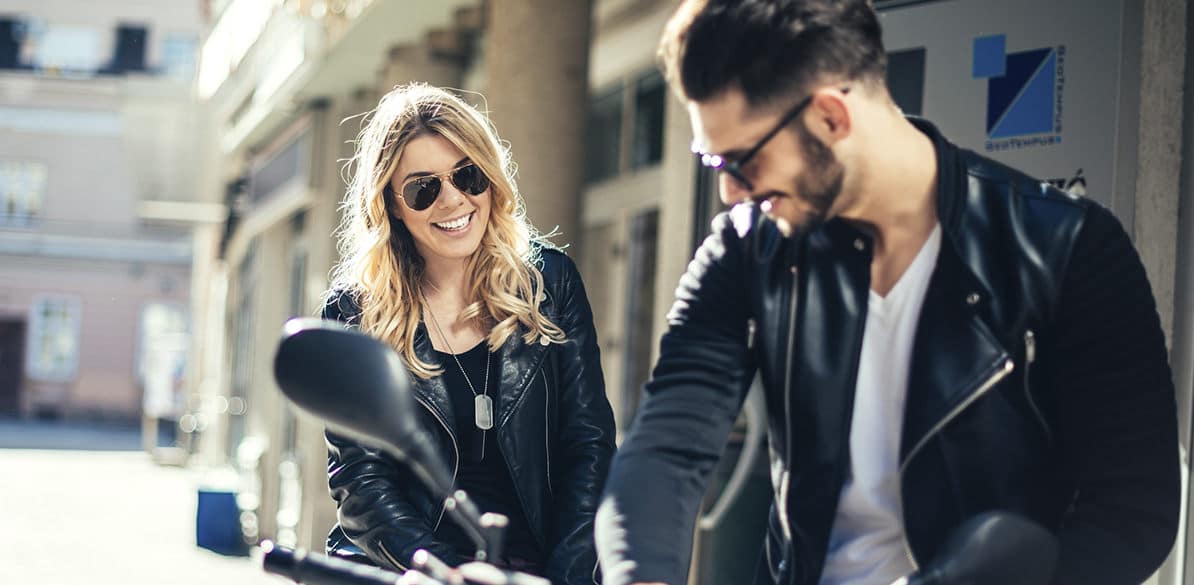 In addition to the helmet, which we know is 100 percent mandatory, other accessories and clothing are recommended to protect us. One of the essentials is definitely a motorcycle jacket, something basic for a motorcyclist for any type of use (highway or urban).
But if we take a look at the market we can see that there is a huge variety of different types of jackets with different features.
The first criteria when deciding between one jacket and another is the material it's made from: leather, Cordura or ventilated. Depending on what you're going to use it for, one specific jacket might be the best.
Leather jackets
Leather jackets feel like a second skin and are the best choice when riding a motorcycle in windy conditions. What's more, their resistance to abrasion when they are dragged on the ground is the best that we can find compared to other jackets.
Leather also has some problems. Wearing it in summer can be uncomfortable due to its lack of ventilation. Furthermore, when it's raining leather gets wet and heavy and lets water filter through.
Textile jackets
It's true that cordura jackets (or similar) are not as resistant as leather, although it's recently reached good levels that could equal it. However, it will only stand one use and you will have to change it for a new one following a fall.
Cordura jackets tend to be more versatile and can be used throughout the year if you use a thermal lining and Gore-Tex or another similar material, and can be worn in winter and summer, in which case you'd obviously need ventilation in the jacket. Furthermore, you can choose a traditional jacket style or a three-quarter length jacket, which covers much more, although they are a bit more uncomfortable for riding bikes.
For convenience, textiles are easier to maintain than leather.
Ventilated jackets
These types of jackets are almost exclusively for very hot seasons or climates. They normally have an interior lining for nights and early mornings, which gives a bit more protection against the morning chill.
More factors for choosing a bike jacket
Once you are clear about the type you need, you need to look at other features that the bike jacket offers, an overview of which is below:
Protections: The material it's made from is important, but when it comes to accidents we have to know that suitable protection is the best defense. In addition to being of better or worse quality, it must be possible to remove the protections from the jacket on the elbows and shoulders, and very importantly, it should have space for back protection, even better if it comes with it.
Adjustments: The more adjustment options it has, the better. Therefore it will better adapt to your body and you'll avoid the uncomfortable feeling of the wind. The first thing is to get the right size, but since it's impossible for it to mold perfectly to your body, the sleeve, back and other adjustments will make it much easier.
Removable inner lining: Essential if you want to stay warm in winter, and it should be removable so as you can take it off in summer.
Air vents: They are essential in summer when there are high temperatures to keep your body cool.
Reflectors: The visibility of motorcyclists is an increasing concern for that group. Inserting reflectors in the jacket helps increase safety and means that other elements such as reflective vests are not needed.
Pockets: Everyone knows that the more, the better. Pay attention to the quality of the finishings and whether or not they are waterproof.
Zipper sliders: It's important to make it easy for the user, since it can be difficult to work with zippers and buttons with gloves on.