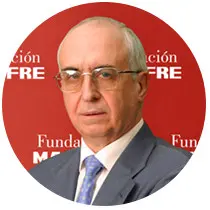 Carlos Álvarez joined MAPFRE in 1966, where he held positions of responsibility, such as President of the Board of Directors of CORPORACIÓN MAPFRE. He also held important positions in the foundation, where he was President of Fundación MAPFRE, Fundación MAPFRE MEDICINA and Fundación MAPFRE TAVERA, as well as trustee of other foundations of the Group.
Since 2006 when all the foundational activities of the Group were integrated in Fundación MAPFRE, Carlos Álvarez was President of the Institute of Prevention, Health and Environment, a position he developed with intense activity until his retirement at 70 years of age last 14 May.
He also represented MAPFRE foundations in other institutions, such as the Spanish Association of Foundations, of which he was President from 2007 to 2011. He remains member of the Board of Trustees.