Member of the Fundación MAPFRE Board of Trustees and Group Chief Human Resources Officer (CHRO) at MAPFRE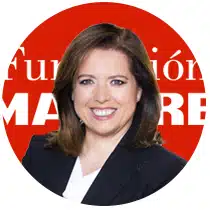 Personal details:
Name and surnames: Elena Sanz Isla.
Date and place of birth: March 13, 1970, Madrid.
Education:
Degree in Economic and Business Science (University of Alcalá de Henares).
University Master's Degree in Risk and Insurance Management (Pontifical University of Salamanca).
MAPFRE Global Management Program (IESE business school).
Leadership Development Executive Program (Harvard Business School).
Main positions:
Group Chief Human Resources Officer at MAPFRE (since December 2015).
President of MAPFRE's Corporate Sustainability Committee.
Patron of Fundación MAPFRE.
Other positions:
Member of MAPFRE's Executive Committee (since January 1, 2017).
Board member of MAPFRE España (since January 1, 2017).
President of MAPFRE's Volunteering Committee.
Previous positions:
Deputy General Manager of Human Resources (2012-2015).
Administration and Organization Manager of Human and General Resources. (2005-2011).
Deputy Manager of Human Resources Administration and Reporting (2001-2005).
Management Control Manager of MAPFRE Argentina (1996-2000).
Board Member of MAPFRE Asistencia (2012-2016).