Member of the Fundación MAPFRE Board of Trustees and Member of the Management Committee
Third Vice President of the MAPFRE Board of Directors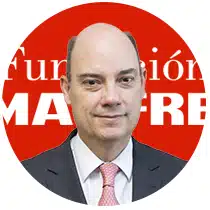 Personal details:
Name and surnames: Jose Manuel Inchausti Pérez.
Date and place of birth: September 22, 1964 in Madrid.
Education:
Degree in Law from the Universidad Complutense de Madrid.
Executive Management Program at IESE.
Main positions:
Third Vice President of MAPFRE.
Trustee of Fundación MAPFRE.
CEO of the IBERIA Territorial Area (since December 2015).
First Vice President and Managing Director of MAPFRE ESPAÑA (since January 2016).
Board Director of MAPFRE VIDA.
Board Director of MAPFRE INTERNACIONAL.
Board Director of MAPFRE GLOBAL RISKS, Agencia de Suscripción.
Board Director of MAPFRE RE.
Board Director of MAPFRE SEGUROS GERAIS.
Joint and Several Administrator of VERTI.
President of SANTANDER MAPFRE SEGUROS Y REASEGUROS.
Board Director of CARTERA MAPFRE, S.L.U.
Vice President of UNESPA (since September 2016).
Previous positions:
President of the Automobile Commission of UNESPA (2015-2016)
General Director of the Business Support Area (from January 2014 to December 2014).
General Director of Technology and Processes (2007-2013).
Territorial General Director for Catalonia (2005-2006).
Director of Catalonia 1 subcentral (2002-2004).
President of MAPFRE COLOMBIA (2000-2002).
General Director of MAPFRE SEGUROS GENERALES COLOMBIA (1999-2000).
Director of Operations for VERA CRUZ VIDA E PREVIDENCIA BRASIL (1996-1999).
Board director category:
Executive Director.
Dates of appointment as company board director:
First appointment: June 18, 2016 (with effect from July 18, 2018).
Last reelection: March 8, 2019.