José Manuel Martínez Martínez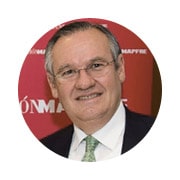 José Manuel Martínez dedicated his entire professional career to MAPFRE. He joined the company in 1972, and successively held various positions of responsibility. In 2001 he was appointed president of the Group, a position he held until 2012, and which he carried out in conjunction with the presidency of Fundación MAPFRE between 2005 until 2011.
Under his management, MAPFRE became a top-level multinational Group-, present on the five continents employing more than 35,000 people worldwide, with a clear leadership position in many of the markets where it operates.
The great humanistic and professional qualities of José Manuel Martínez, his outstanding contribution to the development and modernization of business, and his concern for society, both in Spain and Latin America, have brought him extraordinary international prestige. He has also held important positions in various institutions and received many awards, and developed meaningful relationships with numerous important international figures.