Managing Director of the Culture Area of Fundación MAPFRE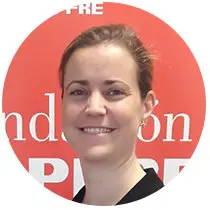 Personal details:
Name and surname: Nadia Arroyo Arce.
Date and place of birth: 8 September 1979 in Madrid.
Education:
Degree in Art History from the Universidad Autónoma of Madrid.
Doctorate courses in Fine Arts from the UNED.
Diploma of Advanced Studies on El canto de la Tripulación at the Universidad Complutense of Madrid.
Chief positions:
Director of the Fundación MAPFRE Culture Area (since 2019).
Member of the Fundación MAPFRE Management Committee (since 2019).
Other positions:
Member of Judging Panel for the Nuevo Talento FNAC de Fotografía (2013) Awards.
Member of the Evaluation Committee of Eyes in Progress (2013).
Previous positions:
Head of Exhibitions at Fundación MAPFRE (2011-2018).
Coordinator of traveling exhibitions at Fundación MAPFRE (2010).
Exhibitions coordinator at Fundación MAPFRE (2006 – 2009).
Researcher in the Graphic Arts Department of the Musée du Louvre (2003-2004).
Exhibitions Coordinator at Fundación Juan March (2003).