A friendly voice
Our senior citizens are not alone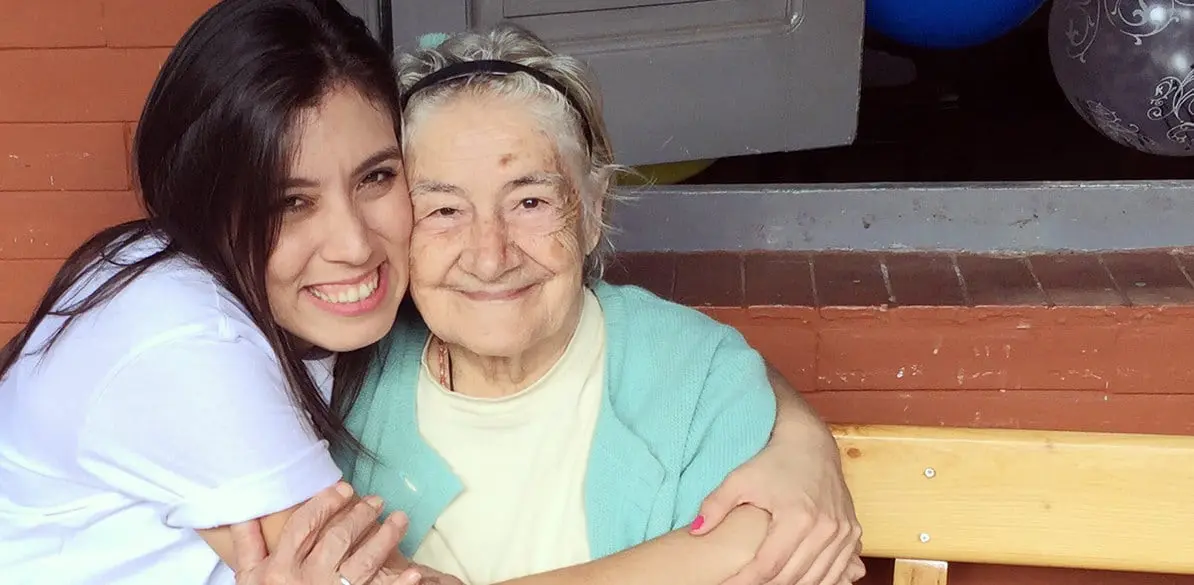 The loneliness of many senior citizens has been aggravated by the arrival of COVID-19 in our lives. They can't go outside, they can't see their loved ones, they are afraid and they need company.
The Fundación MAPFRE volunteers support them with the initiative "A friendly voice". They chat to them over the telephone with friendly conversation about culture or their emotions.
The experience of listening, reading together or sharing stories makes them all feel better. Our volunteers grow with this experience. Here are their stories.
In difficult times, wonderful things can happen
It has been very gratifying to participate in this program, I have had the opportunity to meet an amazing woman as my Friendly Voice, and we both shared life experiences. I told her about the possibility of sharing our conversations with one of my daughters and being able to develop a kind of diary that we called "Grandma, tell us your story" always respecting her privacy. In these wonderful meetings we discovered her friendship with a great philosopher, Fernando Sabater, and by chance my daughter was asked at school to write an article for the school magazine. So we arranged an interviewed with Pilar after she agreed to share her experiences with us. The interview has already been published.
In such difficult times as these, wonderful things also happen; thank you very much for the opportunity.
Steeling smiles and bringing joy to senior citizens36
I have been volunteering since I was 22 years old, and now from a distance, it's a little different.
At first it was kind of hard to get into the conversation with Sra. Felicitas, but I was really happy when she told me she was glad I was calling and thanked me.
I feel that by dedicating just a few minutes of our time we can make people smile and bring some joy to people who have already gone more than a month without being able to see their families.
In my case, I would be more than happy to do it again.
Words that reach hearts
One of the calls I made today was very difficult because the beneficiaries had lost loved ones in the last few days to COVID-19 or to other diseases.
It is very sad to hear how afraid they are of the situation and that they cannot say a last goodbye or a prayer, despite trying to stay positive. You can hear in their weak voices how difficult it is for them not knowing how to handle all the emotions, yet they are very grateful for our call. They asked me to continue with this wonderful initiative because we motivate them and give them faith.
It is very nice receiving their thanks and blessings because despite everything they are going through, their experience and age makes them very human and kind.
Today was truly a difficult day, I hope my words and support have touched their hearts.
A different and challenging action
This is a totally different activity from our normal activities as Volunteers. This initiative brings us closer to those who need us. The task seems easy but it is challenging. We have to get to know the elderly person we are calling over the phone, and keep him or her motivated in the conversation. It is a rewarding experience for us because you also discover that the support they need is not only financial, but also emotional, especially during this isolation.
Sr. Tabares was happy to have a conversation. At first he was confused about the purpose of the call, but I explained everything slowly.
This call made me feel much better. Sr. Lugo was happy to have a conversation. He is a very kind old man who told me some of the experiences he has gone through in his life.
Adding joy to the lives of our elderly
The Friendly Voice program is undoubtedly one of the most warm-hearted and human support initiatives that the Foundación has organized, and more so in these exceptional times of uncertainty and isolation due to the pandemic caused by the COVID-19. In our current situation, we must be more united than ever and look after the most vulnerable groups.
A telephone call to keep our elderly company from a distance who are unfortunately not living with their loved ones, seems a simple and perhaps worthless action, but it represents a call for solidarity, companionship and a feeling of being there to add some joy to the lives of our elderly, even for just a few minutes.
This action is reciprocal, the calls change their daily routines and take them to a time where the virus does not exist, where there are invitations to celebrate birthdays, to cook and listen to the radio together. This is the new normality that they hope becomes a reality.
It was a very pleasant experience that I would certainly be willing to repeat.
Creating a space of trust
I had the pleasant experience of having a conversation with Sra. Maria Luisa. At first she was nervous but in no time, we were having a very calm conversation within a space of trust. The need to be listened to and have some company was more than evident. She only wanted to be spoken to nicely and listened to, she wanted somebody to be interested in her and show her respect.
Our conversation included laughter and stories. The only thing missing was to put a face to the friendly, pleasant voice. I felt an entire story behind Doña Maria Luisa and we amicably shared topics about life. She obviously has a much more extensive and generous background than this humble Fundación MAPFRE volunteer. I learned from those details, insignificant for her but great lessons for me. For example, when she spoke of her late husband with admiration and pride, of the decades by his side and how he taught her so many things, for example how to read.
We say goodbye in good spirits and look forward to talking again next Wednesday, paying special attention to those small – big anecdotes life gives us.