The age old problem that needs more than a vaccine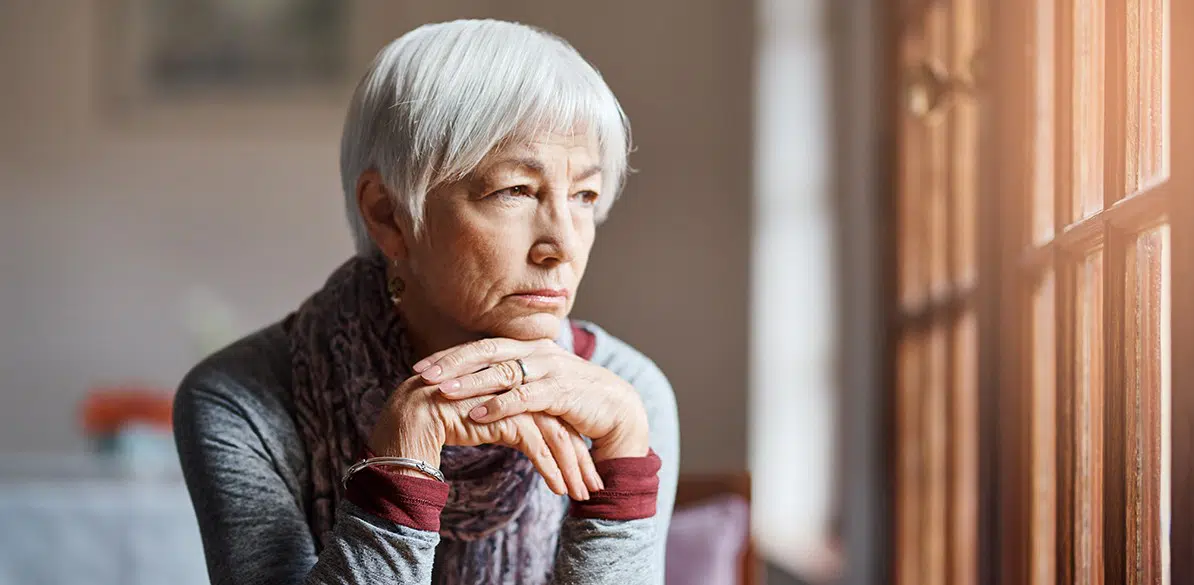 As countries struggle to deal with the pandemic's latest variant, and varying levels of restriction, we continue to be challenged, not only by the virus itself, but increasingly by its collateral damage. Among the most significant impacts has been a surge in loneliness, particularly among older people.
As the population of older adults soars worldwide, they have found themselves at the coalface of two pandemics, COVID-19 and loneliness; a crossfire hurricane if ever there was. One is acutely deadly now, the other a slow curdling threat, also with devastating consequences. Even before COVID struck, we were seeing a troubling escalation of loneliness and isolation among older adults. According to the Milken Institute for Aging in the US, more than one in four adults aged 50 to 80 reported that they felt isolated even before the outbreak. Similar pre-pandemic research from the University of California showed that 43% of adults over 65 regularly feel lonely, putting them at higher risk for poor health. As the virus forced people to isolate further, it has caused a social crisis to unfold with potentially deeper and more far-reaching consequences than COVID itself.
The impacts of loneliness and chronic isolation are insidious – not just for older people themselves, but also their families and public services. From poorer physical and mental health outcomes, to reduced resilience and mobility, its effects on seniors are severe, with the potential to induce terminal decline. Loneliness is known to heighten the risk of coronary heart disease and stroke on a par with smoking 15+ cigarettes a day. The mental health consequences are arguably more distressing – contributing to clinical depression and early dementia. Simply put, loneliness in later life destroys people. On top of the human cost, it also puts a massive strain on public health systems. A recent study by Stanford University to quantify the cost of loneliness found that among Americans aged 65 or older, social isolation costs the US Government circa $7 billion in additional healthcare costs per year. London School of Economics researchers have estimated that chronic loneliness in the UK costs £6,000 ($7.9K) per person for a decade of an older person's life in health costs and pressure on local services.
The tragedy of this pandemic is that the imperative to isolate, which was meant to protect older people, has exposed so many of them to the hard unforgiving edge of loneliness. For many seniors previously leading vibrant connected lives, it has been a destabilising encounter. Loneliness is a deep dark furrow to fall into, and not so easy to get out of. The creeping cumulative effect of a lack of social contact can pull one under. For society there is not only an urgent need to help people out of it, but looking beyond the pandemic, the goal must be to find ways to prevent people from falling victim in the first place.
Creative Solutions Needed
As the COVID crisis has disproportionately increased older adults' risk of disconnection, we urgently need to think about how we are going to tackle it. New measures and interventions are sorely needed to create a more interconnected and engaging society for seniors. We need social stimulus plans on top of fiscal ones, with investment and support for social innovations that connect older people and alleviate and prevent loneliness among this most-at-risk demographic. While phone lines and befriending services are great, we need bold and dynamic early-stage solutions that empower and excite older adults in a way that doesn't feel like charity. The active ageing concept should be broadened to 'engaging ageing', which encompasses connectedness and prioritises older adults' mental wellbeing as well as physical. Providing opportunities for social interaction is key – meaningful interaction that can enrich older lives with a sense of purpose, joy and contribution.
Sadly much of this is still not possible, but one thing we know for sure is that COVID's reign is going to end – and soon. However even when restrictions lift and society reopens, many older adults will struggle to bounce back. This pandemic has dented their confidence with new concerns that weren't there in the past. Many will need help to get back out there, to reconnect fully with the world around them, and more importantly, with others. Let's not forget the scale of the loneliness problem before anyone ever heard of COVID-19.
Vaccines alone will not be enough to reboot and reconnect older adults whose lives have been diminished by prolonged isolation and loneliness. Creative interventions will be needed to get them mobilised and connected again post-pandemic. As the CEO & Founder of Encore.org Marc Freedman said recently: "we're going to need to be as creative about bringing people together as we've been about separating them".
Opportunity
In the rhetoric of 'building back better', loneliness in later life is an area that desperately needs attention. Masquerading in this problem of course is a huge opportunity. The benefits and rewards for successfully tackling it are potentially enormous, at every level from the social to the financial. In business parlance, the 'total addressable market' is massive and growing rapidly as society's average age rises dramatically. The burgeoning 'silver economy' is already estimated to have a market value of $15 trillion globally, yet it is poorly served and to a large extent still untapped. By addressing the global challenges of later life loneliness and isolation, enterprises could unlock tremendous revenues while improving quality of life for people as they age, thus achieving the holy grail of success – the bottom line double of profit with real social value.
As we face the latest waves, now is the time for vision and ambition. Now is the time to design and build tomorrow's solutions. Now is the time for entrepreneurs, investors, corporates and governments to step up and show conviction. Now is the time for innovation and impact that is truly social. Now is the time to create an age-friendly world that our elders deserve and that we can all look forward to growing old in – together.
Peter Mangan (Ireland) is the founder and CEO of the Freebird Club, a social travel and homestay club for older adults. Freebird's social model offers a new way of travelling for older adults, a means to unlock value in their homes, and a fun way to meet new people and enjoy social and cultural interaction in later life. The Freebird Club has won a number of international awards, including the European Commission's Social Innovation Competition, the European Investment Bank's Social Innovation Tournament, and the Sustainability & Impact Award at the UNWTO Global Tourism Startup Competition in 2019. This year Freebird was a semi-finalist in the fourth edition of the Fundación MAPFRE Awards for Social Innovation, boosted by IE. Peter has BComm and MBS degress from University College Dublin, and an Executive Diploma in Social Innovation from Catolica Lisbon School of Business. He is also a coach for the European Commission's Social Innovation Competition.