2022 Fundación MAPFRE Social Outreach Awards
We recognize generosity and solidarity







Once again this year, our awards have focued on individuals and organizations that stand out for their efforts to improve the living conditions of so many people; their commitment and solidarity help us all to remain hopeful even in the face of war, inequality and injustice.
Their selfless work sets an example for us, so that we can continue to move forward together in the only possible direction: to make the world a better place for everyone.
This is the story of the Social Awards 2022 ceremony held in Madrid, as seen on social media. The images at the top of this page also show some highlights from the event.
The winners of our 2022 Social Outreach Awards are an example of how with professionalism, tenacity and generosity it is possible to make a difference. Here they are:
Jose Manuel Martínez Martínez Lifetime Achievement Award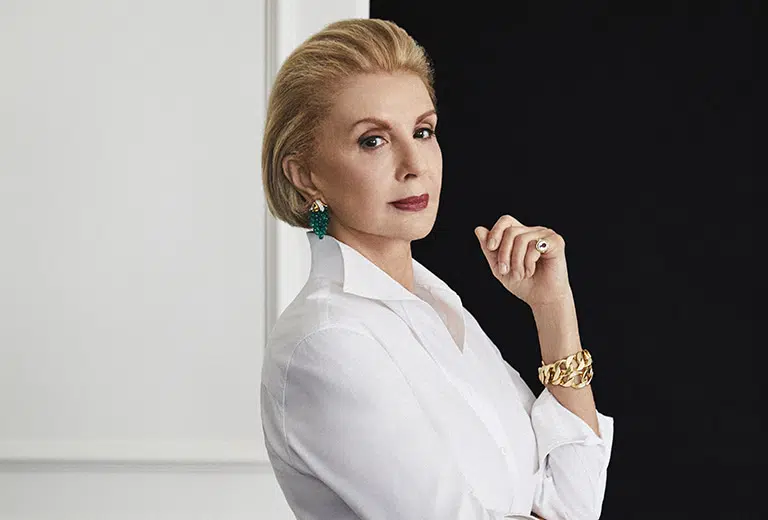 Jose Manuel Martínez Martínez Lifetime Achievement Award
Carolina Herrera is a seminal name in contemporary fashion. Her work as a designer is characterized by the pursuit of impeccable, dynamic and timeless elegance, without sacrificing imagination. Her brand is present in more than 140 countries and her career has earned her international awards that recognize both her professional merits and the values she defends.
In 2018, she took a decisive step. She stepped down as Creative Director of the company she had founded in 1981, and became Global Ambassador for the firm, allowing her to concentrate on a key facet of her life: the humanitarian causes to which she has dedicated her energy throughout her career.
Carolina Herrera has collaborated and continues to collaborate with organizations that focus on the fight against malnutrition and cancer, such as Fundación Aladina, and that promote the welfare of children and the empowerment of women, mainly through training. Of particular note among her activities is her tireless support for the fight against and prevention of breast cancer through various programs and initiatives.
Her commitment to gender equality and women's development has led her to collaborate with several associations, including Dress for Success, in the USA, and Fundación Ared and Fundación Quiero Trabajo, in Spain, which aim to provide women with the means to achieve financial independence.
In response to the pandemic, and in collaboration with the Red Cross and Red Crescent, Carolina Herrera launched the Carolina Herrera Heart for Hope initiative, through which she raised 7 million US dollars to provide tests, medical supplies, ambulances, hygiene kits, and psychological support to communities affected by COVID-19 around the globe.
Award for the Entity with the Best Track Record in Social Causes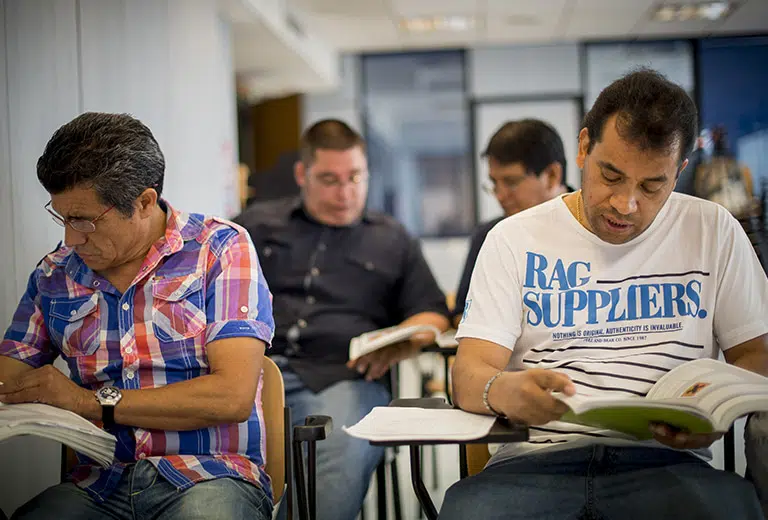 Award for the Entity with the Best Track Record in Social Causes
Fundación Integra has been committed to social inclusion and the creation of second chances for more than 20 years, helping individuals in situations of severe social exclusion and people with disabilities to regain control of their lives through integration into the labor market. Their goal is to help these people reach their full potential thanks to a decent job that allows them to regain their independence, self-esteem and sense of usefulness.
Fundación Integra achieves this objective by mediating between companies and social entities, so that people not only find employment, but are also effectively integrated into society. Throughout its history, it has provided employment for more than 19,000 people, 70% of whom are women.
Each person who comes to Fundación Integra seeking help receives a personalized integration itinerary that begins with an analysis of their circumstances, their previous experience and training, their concerns and expectations, and which serves as the starting point for their social and job skills training. Once they are ready to find a job, according to their profile, they are included in the recruitment processes of the more than 50 companies that form part of its collaboration network. The success of this process is due to the fact that the people meet the standards required by the companies and are incorporated in total anonymity, demonstrating their value and improvement in their job.
All the work and rationale of Fundación Integra is rooted in the challenge of making each of these people masters of their own present and future through employment.
Award for the Project or Initiative with the Best Social Impact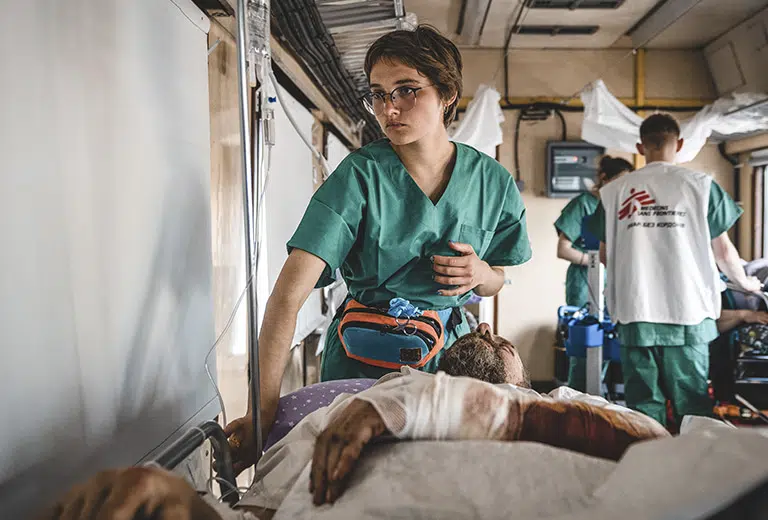 Award for the Project or Initiative with the Best Social Impact
Since the end of February 2022, Ukraine has been suffering the ravages of war. More than 12 million people have been forced to flee their homes because of the conflict. Of these, more than 5 million have sought refuge in Europe.
Hospitals and health centers in the areas closest to the fighting, especially in the east and southeast of the country, are stretched to breaking point. Guaranteed medical care is crucial for the survival of the wounded. It was essential to put in place a system that would allow patients to be transferred from overcrowded Ukrainian hospitals in areas close to the front line, to hospitals in the west with more room and which were further from the fighting.
Every crisis is different, and this one demanded a creative way of adapting to the environment. Doctors Without Borders verified that the trains were working and that they had the capacity and conditions to equip them with medical facilities.
So, in collaboration with the Ukrainian National Railways and the Ukrainian Ministry of Health, the organization has launched a medicalized train that allows patients to receive the care they need in a suitable place for this purpose. Doctors Without Borders has adapted passenger cars to create a medical referral train. In addition to providing patients and their families with peace of mind, this large rail ambulance allows them to continue their treatment and recover in parts of Ukraine that are more remote from areas of active conflict.
At the same time, this allows hospitals in or near active war zones to free up beds to receive new wounded patients. As fighting intensifies in the east and south of the country, this is becoming increasingly necessary.
Patients are selected by hospitals in the area based on established medical criteria and the Ministry of Health is responsible for ensuring their reception in hospitals in Lviv and other western cities where continuity of care is assured.
Since the launch of the project (March 31) up to September 7, the medical evacuation train has made 50 trips, transporting 1,401 patients as well as 78 orphans evacuated from an orphanage.
Award to the Best Initiative in the Agricultural Sector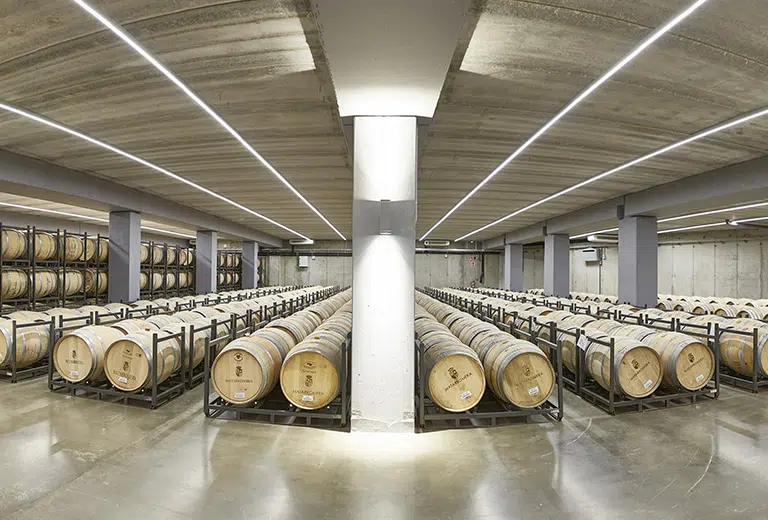 Award to the Best Initiative in the Agricultural Sector
Tradition, innovation, sustainability and quality. These are the values that define the company Bodega Matarromera, one of the leading firms on the national and international wine scene.
Present in 6 Designations of Origin (Rueda, Ribera del Duero, Cigales, Toro, Rioja and Ribeiro) through its 10 wineries, it is a leader in R&D, committed to the land and sustainability, with the construction of eco-efficient facilities, promoting the use of clean and renewable energies and launching research projects that allow them to produce products that are increasingly natural, organic and eco-friendly.
They have implemented a business strategy based on sustainable development and respect for the environment. Through an Integrated Efficient Management System, they have implemented an information system that allows them to optimize all the industrial processes in their production centers. In addition, the company is committed to digitalization in the field, which involves the development of new methods and technologies to, for example, prevent or treat diseases that could affect the wood or the vineyard at an early stage.
Over its more than 30 years of history, Bodega Matarromera has demonstrated its commitment to the agri-food sector in Spain. With this philosophy, the company has managed to become one of the world's leading wineries in terms of Research, Development and Innovation.
With this award we also wish to recognise the work carried out for the benefit of society in general through Fundación Carlos Moro de Matarromera. This organization dedicates its resources to improving people's well-being and quality of life, protecting the planet through sustainable practices and promoting entrepreneurship and development in rural areas to tackle depopulation.