Are buses designed with children in mind?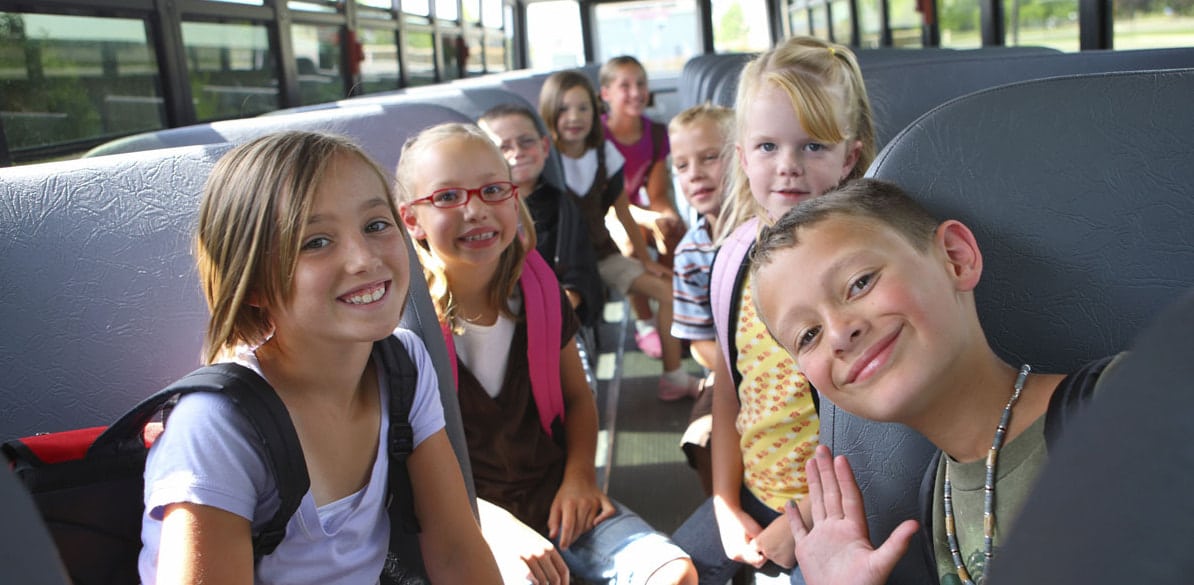 Are buses fully prepared for transporting children safely? Which aspects have been designed with children in mind and which ones should be improved? Here below we will cover all the aspects which affect a child when travelling both by inter-city bus and by coach.
Seat belts: current legislation does not establish how children under 3 years old should travel. Ideally, installing the child's own child seat on the bus seat would be the best option. However, this is not always possible, particularly if the bus does not have seat belts or if they are two-point seat belts. All other passengers should be fastening their seat belts if the buses have them available. There are of course coaches which do not have this important safety system, given that it is only compulsory for long-distance coaches registered from 2007 onwards.
The type of seat belt: if the coach we are travelling on does indeed have seat belts they can be either two-point or three-point belts. The first type does not affect children, that is to say, they are used for both adults and children since they are fastened below the waist, on the pelvis. However, this is not particularly safe for children under 6 years old and it offers far less protection than a three-point belt.
On the other hand, a three-point belt may not adjust correctly and a booster seat might be necessary. Three-point belts are designed for adults. This is why children need boosters, preferably with backrests, so that the seat belt does not cause injury and is well adjusted. The shoulder belt can press against the child's neck.
We recommend reading our article "If you are travelling by bus, here is what you can do to make sure your child's journey is as safe as possible". We go over the different ways in which a child can travel by bus and what the first child seat certified for buses is like.
The headrest: however much we try to adapt it, we will never manage to make it fit the child well. In fact, many children's heads do not even reach the headrest. This is why it is so important to have a booster seat with a backrest so that the child is seated in a child car seat that is right for his or her size.
Tray table: many coaches, especially long-distance ones, have a tray table behind the seat in front so that the passenger can unfold it and use it to eat on or write on. This tray can be counterproductive when it comes to children, given that it can push into them in a crash.
Space in the middle of the bus to leave a stroller: there is usually such a space available on inter-city buses. There are usually also special belts to secure the stroller.
Certain city buses have their own CRS. As an example we have chosen the EMT (Municipal Transport Company) of Madrid. Since 2008, every new bus in the EMT fleet has fully approved baby seats on board as a child restraint system.
Getting onto the bus is sometimes difficult for children when the steps are too high and in many cases, there is no ramp to use to get the stroller on the bus, although this is currently being dealt with in public transport. In the vast majority of cases, buses have bars at the doors to make getting on and off easier.
Seats in front of stairs or which are not protected by a front seat backrest shall have a fixed protection element. In this case, we recommend that children from 5 to 11 years old wear a 3-point seat belt and booster cushions for greater protection.