How many children in child seats can you take in your car?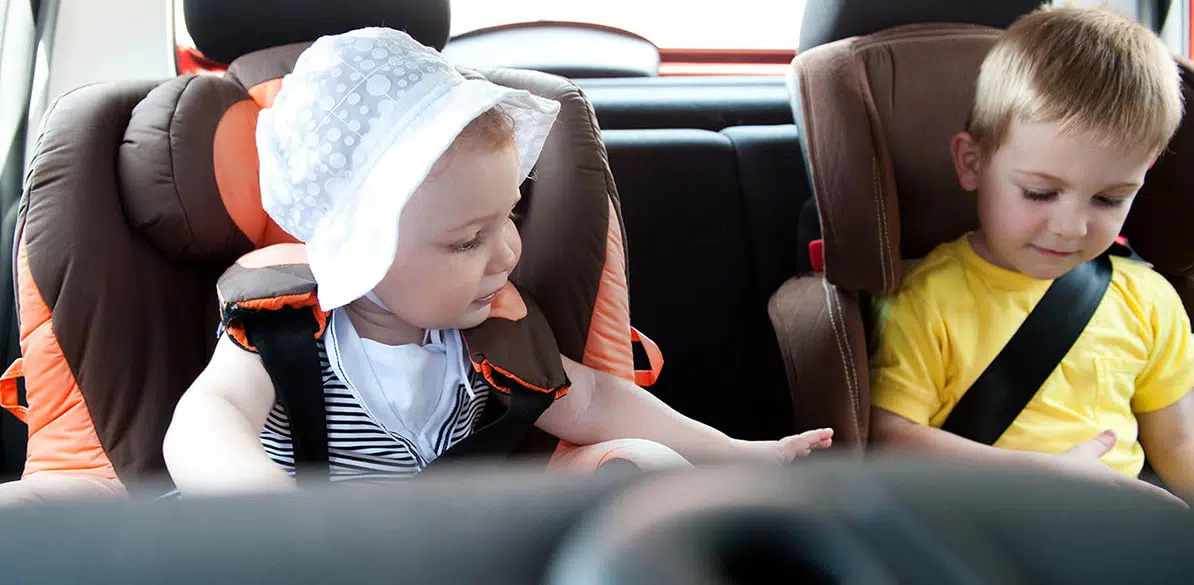 Will four children with their corresponding child seats fit in my car? Do the regulations stipulate anything in this regard? When it comes to traveling with children, many questions like this can crop up, especially if you have recently become a large family and are not used to traveling with so many children! Here we look at what the regulations say in this regard and give the different options.
How many passengers can go in a car?
The Traffic Regulations indicate this clearly: the number of people carried in a vehicle cannot be higher than the number of authorized seats. This means that if you have a 5-seater car, only four children may travel in it. If you have a 7-seater minivan, only six children may travel in it.
However, not everything depends on what the regulations say regarding the number of occupants. You need to take into account how many child restraint systems can fit in the car and whether you can place a child in the front passenger seat.
Of course, it is totally forbidden for anyone to sit anywhere other than the vehicle's designated passenger seats.
How should children travel?
Like adults, children must wear the corresponding seat belt in all seats, while children up to and including 135 cm tall must be seated in child restraint systems.
According to Spanish law on the use of child seats in vehicles, once a child exceeds 135 cm in height they can travel using either a seat belt or a child restraint system (CRS). To ensure the seat belt doesn't run across the child's neck, many parents choose to place a booster cushion on the seat to give them those extra centimeters that they lack before the next growth phase.
Let's take a look at vehicles with up to nine seats, including the driver, so eight passengers. All children must go in the rear seats. They can only go in the front seat, in their corresponding child seat, if all the back seats are occupied by children in child seats, or if it is impossible to affix a CRS in the rear sets (these are two of the three exceptions).
Factors to bear in mind:
First of all, we should emphasize that a lot depends on the type of child seat. For example, if you have to put a child in the front passenger seat, you can only use a child restraint system that faces backwards, and only with the airbag disabled. Traveling with Group 0, Group 0+, Group 1 and Group 2 child seats is not the same as traveling with a Group 3 seat (don't forget the importance of booster seats or cushions).
You must check whether the middle seat in the back row allows child seats to be installed. This is not possible in many cars, as they do not have an Isofix system and do not offer any other option.
It all depends on the number of places. In the case of minivans, you can put child restraint systems in the available seats provided they do not against each other and can be affixed securely, as well as having the necessary anchorage system.
Possible options for 5-seater cars:
Four small child seats. This would indicate a very large vehicle. A large space to allow the installation of child seats without them rubbing against each other. This is a very unlikely situation due to the dimensions of these seats. In addition, you cannot put a child seat in the front seat facing backwards if you cannot disable the passenger airbag or engage reverse gear.
Two child seats and a booster in the back, plus another CSR in the front: this is the same situation as the case of four child seats that rub against each other whose installation would be impossible unless we are talking about a large people carrier, in addition to which you must always remember what the Regulations say about putting child restraint systems in the front passenger seat
Two seats behind and one in front: this is probably the option that you have to take in the case of a small car if the middle back seat does not offer the option of a child restraint system. In all cases, you must bear in mind that children can only go in front if the rear seats are already full with other children in child seats, that the airbag must be disabled, and the CSR must face backwards.
Why you should never travel with more children than usual
Never forget that driving a vehicle with excessive occupancy is a very serious offense. Specifically, the number of authorized places may not be increased by 50%. In this case, your car may be immobilized so long as the cause of the offense persists.
What if I take some children with a child seat and others using a seat belt? You should bear in mind that as well as being less protected than the children in child restraint systems, the failure to install and use these systems is seen as a serious or very serious offense, resulting in the immobilization of the vehicle and four points off your license. The most important thing, however, is that the child will be less safe.