Sculpture, Drawing and Beauty
Drawing – a work of beauty in itself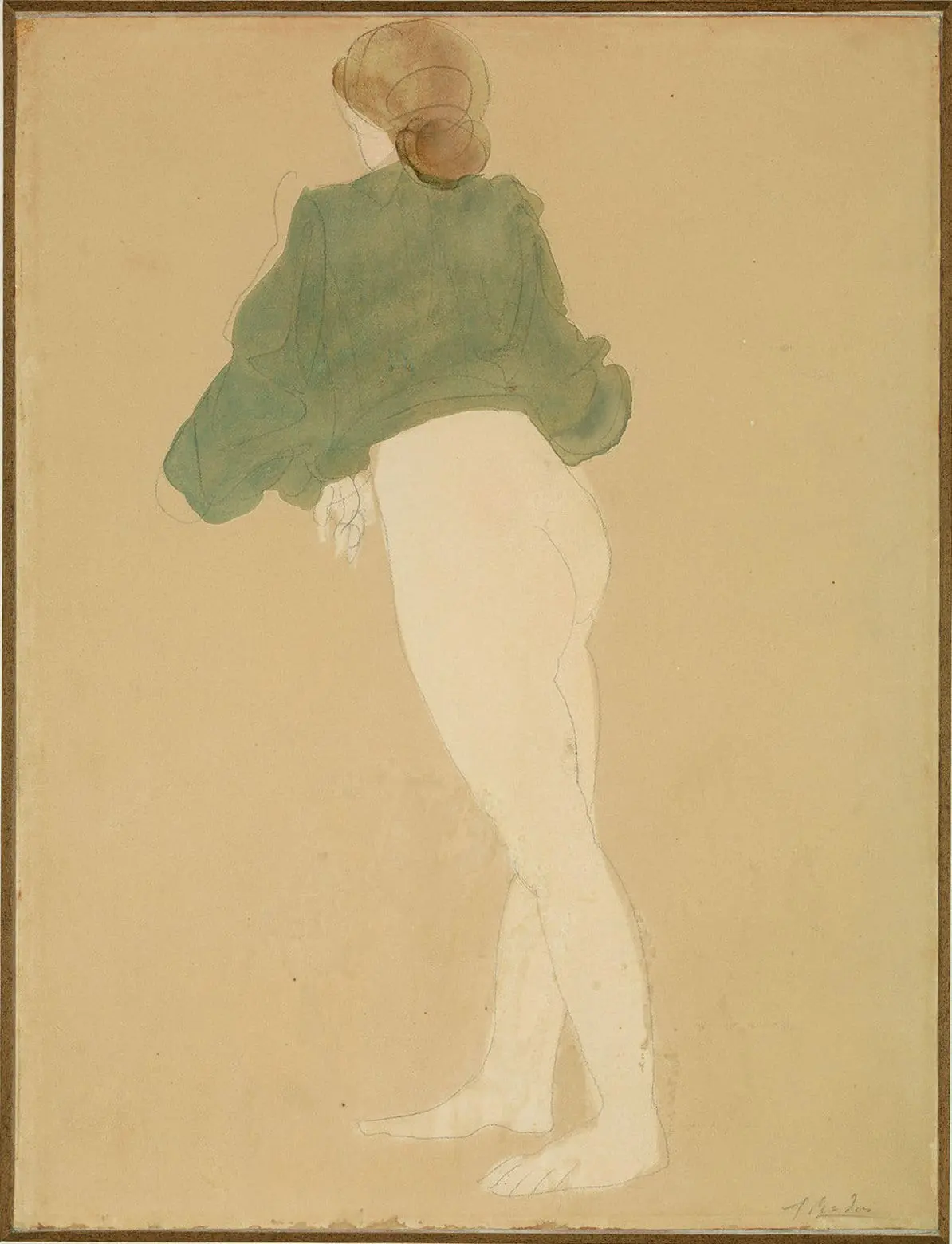 Auguste Rodin
Femme de dos, relevant son châle vert à la taille [Woman with a Green Shaw], ca. 1900
© Auguste Rodin, VEGAP, Madrid, 2020
In the mid-1880s, the work of French sculptor Auguste Rodin (1840-1917) underwent a transformation. Feminine figures became much more prevalent in his sculptures, but above all in his drawings; their bodies took on a new sensuality, coinciding not only with the start of his relationship with Camille Claudel but also with the lectures he gave around this time: Dante, who he was studying when he was commissioned to create one of his most famous works that same year, The Gates of Hell and The Flowers of Evil by Charles Baudelaire.
In 1910, Rodin stated categorically that "My drawings are the key to my work". Over the years, the artist intensified this practice until it became his main activity, focusing more and more on expressing the living movements of his models: the faces barely roughed in, or women seen from the back to which he would sometimes add a touch of watercolor, usually in a discreet shade that might highlight the hair with just a stain of color. He often portrayed naked women, or déshabillé, as if to capture "a hundred unconscious, momentary postures; the eternalization of the most fleeting aspects of beauty."
Under the arch of Life, where love and death,
Terror and mystery, guard her shrine, I saw
Beauty enthroned; and though her gaze struck awe,
I drew it in as simply as my breath.
Hers are the eyes which, over and beneath,
The sky and sea bend on thee – which can draw,
By sea or sky or woman, to one law,
The allotted bondman of her palm and wreath.
This is that Lady Beauty, in whose praise
Thy voice and hand shake still – long known to thee
By flying hair and fluttering hem – the beat
Following her daily of thy heart and feet,
How passionately and irretrievably,
In what fond flight, how many ways and days!
Soul's Beauty, Dante Gabriel Rossetti, 1866