Cross-Traffic Alert
RCTA (Rear cross traffic alert)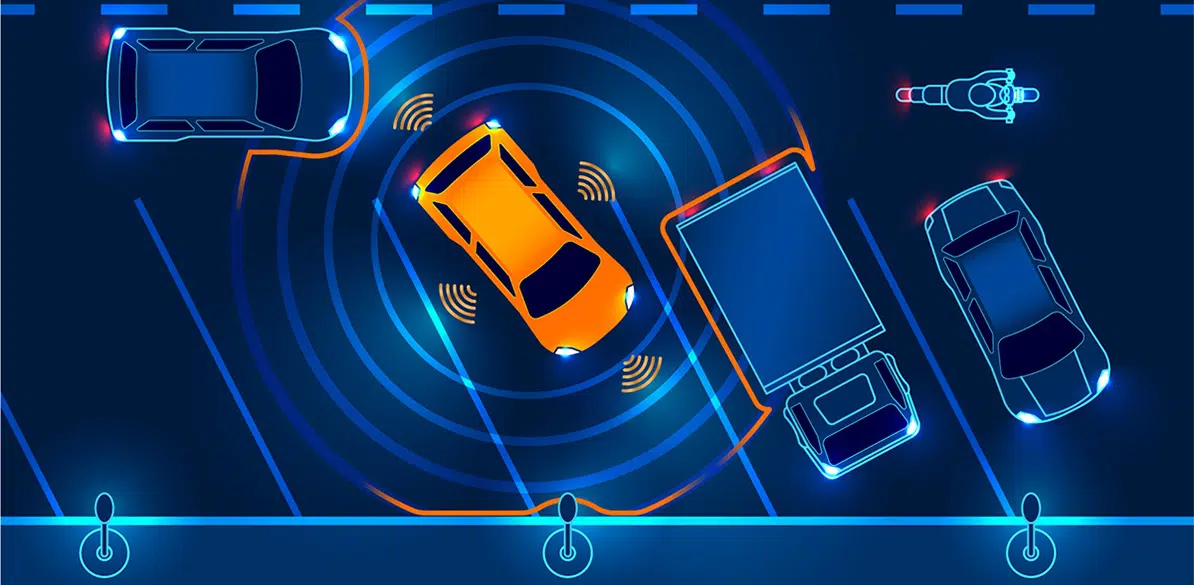 Objective
Alerts the driver to vehicles approaching the rear side of the vehicle when reverse gear is engaged.
This system is particularly advantageous when visibility at the exit of a parking space is reduced, as in the case of a reverse parking maneuver in a perpendicular parking space.
How it works
The cross-traffic alert system warns of vehicles traveling to the rear of the vehicle across a perpendicular parking space.
It emits an audible and or visual signal on the multifunction display, warning the driver if it locates an approaching vehicle. It takes into account the distance-speed ratio by calculating the time, which is 2 to 3.5 seconds, in which a collision with the approaching vehicle would occur.
Depending on the manufacturer, if the driver does not react to the warning, the system exerts maximum brake force when a collision is imminent (if the driving speed is less than 15 km/h).
The system is automatically deactivated if the vehicle exceeds a speed of 15 km/h or the ignition is switched off. It can also be activated/deactivated manually from the vehicle settings menu.
The RCTA system warns of other vehicles at a distance of approximately 20 m. At shorter distances, some systems differentiate small objects such as bicycles or pedestrians.
Components
Two radar sensors located in the rear wings of the vehicle, behind the bumper or integrated into it.
Instead of these radars, some manufacturers use ultrasonic sensors (arranged around the bumper), used for parking systems, or even a combination of both to detect pedestrians.
Driver information display (center console, rearview mirrors or audio system display).
Reversing sensor.
Braking system (if applicable).
Normally, this system is associated with the blind spot monitoring system.
Collisions avoided
Accidents due to lack of visibility.
Low-speed collisions when reversing.
Parking accidents.
In models with this feature, rear-end collisions.
Effectiveness
Lucas Neurauter and Robert E. Llaneras of the University of Virginia, carried out a study in which they found that, thanks to this system, the number of lane invasions when coming out of a parking space (involving the danger of collision) decreased by 44%.
Use and limitations
The RCTA system is limited in the following circumstances:
Backing up at an angle from a parking space.
When it detects the presence of rain, snow or mud in the radar zone. Generally, when this occurs the RCTA system alerts the driver to the problem.
Open trunk or doors.
Cost
Normally offered as an "optional pack" with other systems such as the blind spot system.
Depends on the driving assistance systems included in the pack. It costs between 500 and 2,000 euros.
Mandatory
The RCTA system is not mandatory, nor is this planned in the medium term.