Avoiding risks when going to the hospital for delivery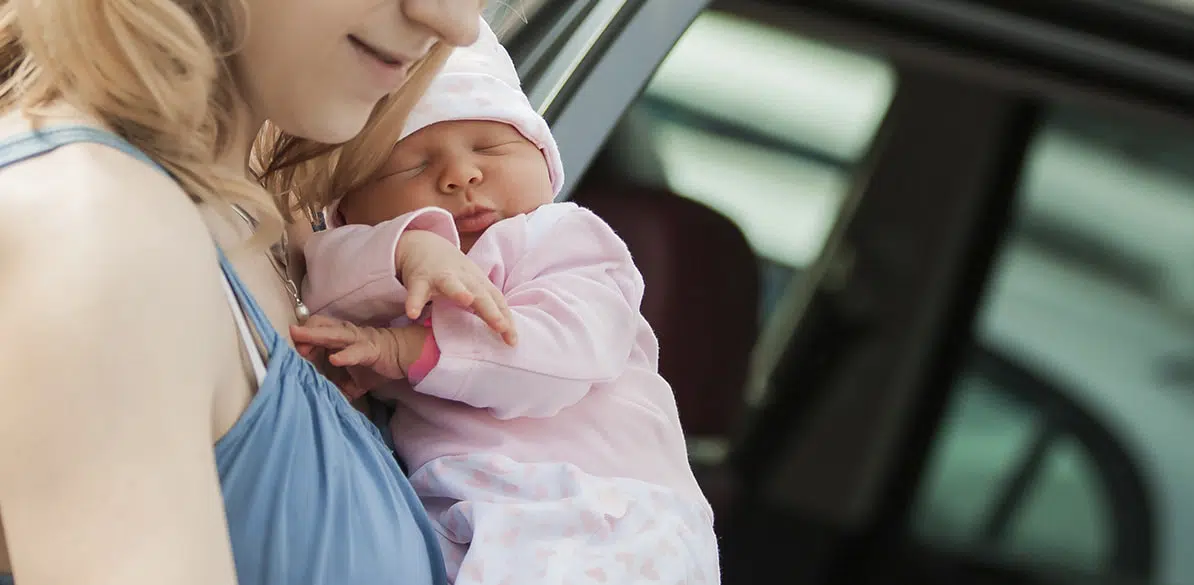 Are you all set for the arrival of your baby? We tend to think about the cot, the stroller, the clothes, and everything the baby will need in the hospital but, in many cases, we forget about or do not prepare enough for one of the most important items: How are we going to take our newborn on his or her first car journey and how are we going to travel with him or her on the following journeys?
The most appropriate child restraint system
Have you thought about what kind of child restraint system your baby should use? Please remember that they must travel at all times in an approved car seat adapted to their height and weight. "Approved" means it must comply with one of the two standards currently in force: R44-04 and R-129. The former is based on the child's weight while the latter is based on height. In addition, there are some substantial differences listed here below. For example, child seats approved by standard R-129 have passed side-impact crash tests. In addition, they can often be installed with the ISOFIX anchorage system (crucial for avoiding errors). This approval standard is replacing R44-04. From September 2025, CRSs approved according to R44-04 will no longer be marketed, but their use will continue to be allowed.
We know acquiring a child restraint system can be a daunting task. At Fundación MAPFRE we want to help you 'Choose a child car seat'. Here below are the different CRSs that you will find on the market as your child grows. In this situation, we are dealing with newborns. We must therefore choose a baby-carrier type CRS, i.e., group 0 or 0+ (40 to 87 cm). These are much safer than carrycot car seats, which are only recommended for specific cases.
Please remember that evolving child seats can be found on the market, i.e., one single child restraint system for all stages of a child's life. However, this is not recommended. Indeed, the needs of a 1-year-old child are not the same as those of a 6-year-old child. We must change CRS as the child grows. This way, the seat changes along with the child and is reinforced to protect the most relevant areas.
All babies should travel in a semi-reclined position. This is especially important for premature babies. Thus, child restraint systems for the youngest babies, such as 0 and 0+, have reducers. These reducers are designed for babies from their first trip and up to a maximum weight and height usually indicated by the manufacturer.With this system, they will travel in a more reclined and secure position, as it provides enhanced ergonomics. Naturally, they must always ride rear-facing and must do so for the first 15 months if the CRS purchased was approved under regulation R-129.03.At Fundación MAPFRE we recommend using car seats that allow the child to travel rear-facing for as long as possible and up to a minimum of 4 years of age.
When buying a child restraint system, we recommend that you visit a specialised shop where they can advise you and answer all your questions so that you are left with no doubts. Specialised shops can also check the compatibility of your car with any child car seat and explain how to properly install a CRS.
Naturally, avoid second-hand child restraint systems.Why is that? You cannot know how it has been used, whether it is in good condition, or if it has been involved in an accident that may have altered some of the car seat's materials and, therefore, the protection it can provide… Furthermore, please bear in mind that a car seat's estimated lifetime is usually 6 years.
Once you have chosen the most suitable car seat, you must practice how to install the seat properly.Follow the manufacturer's instructions. This way, when the time comes to use it, you won't have any doubts or make any mistakes.
What to do when it is time for delivery?
If the time has come to give birth, please stay calm. Get everything you have prepared for the hospital.
When travelling by car, don't forget to wear your seatbelt. It is still very important.No driving, of course. You should travel in the passenger seat with an appropriate distance between the seat and the dashboard. In fact, for safety reasons, it is preferable to ride in the rear seats. Please bear in mind that the front passenger airbag can be dangerous and that when pregnant, especially in the last months of pregnancy, there is less space due to the increased volume of your belly. It is important to sit as far away from the dashboard as possible.
Please remember
how
to wear a seatbelt
:the lap strap should sit just below the abdomen and just above the hip bones.The shoulder strap should pass over the middle area of the sternum and collar bone, without lying too close to your neck, and between your breasts.It is important that the upper strap does not lie directly across your baby bump or over one of your breasts, and that it does not go underneath your arm or armpit.
What about when leaving the hospital?
Under no circumstances should you leave the hospital and get into a car with your newborn unless he or she is travelling with a child restraint system.You should never travel with the baby in your arms. As indicated here above, this CRS should already be in place. It must have been purchased in advance and must be brought to the hospital for this first trip and any following trips.
Please remember to position the car seat according to the manufacturer's instructions and properly secure the baby. The harness must be tightly fastened.
As mentioned above, tilt the seat properly. In the case of newborns, the inclination should be greater. Remember newborns have no spinal or neck strength.
The child seat must be installed in the rear seats, preferably in the middle seat.. However, if the middle seat does not have any ISOFIX anchor points but the child car seat does, it is preferable to place it on the right rear seat, just behind the front passenger.