Jesús Monclús: 'Goal Zero is possible'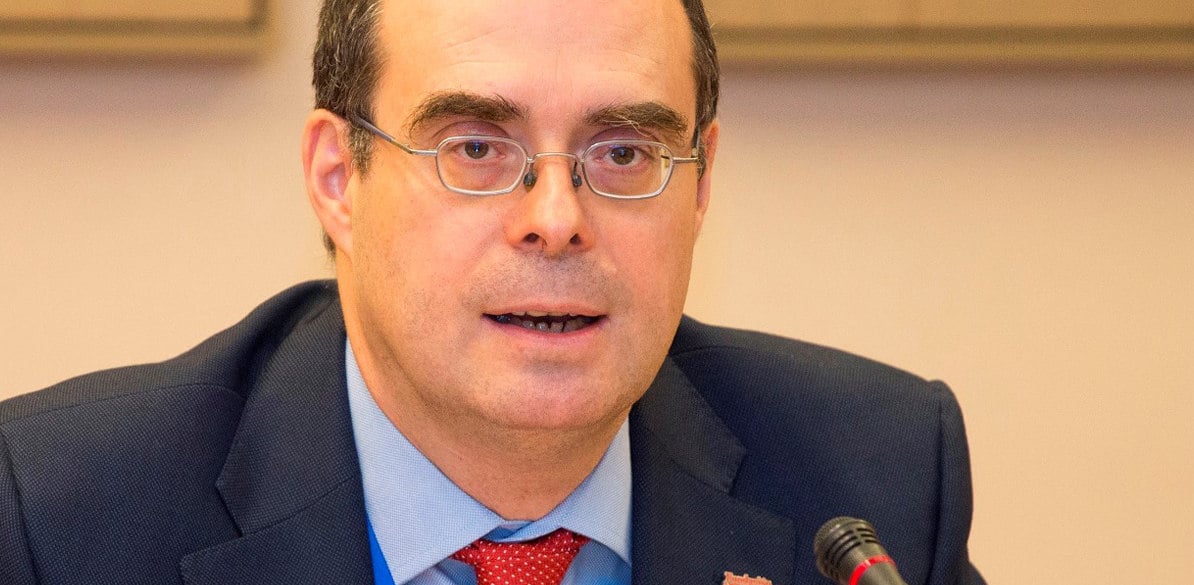 We interviewed Jesús Monclús, Manager of the Fundación MAPFRE Accident Prevention and Road Safety Area. We focused on the world of motorcycles and motorcyclist safety in this interesting interview.
Fundación MAPFRE is an institution with considerable activity in Spain that also has great reach overseas, specifically in Latin America. Where do countries on the other side of the ocean stand?
Spain significantly improved its figures and is among the best in Europe. In other countries, the situation and their progress is very different. The claims ratios in Latin America double or triple those in more developed countries and their motorization data is lower than those in Europe. This is worrying and if measures are not decisively taken, these ratios could increase as motorization increases. Each country is different but it is true that there are deficiencies in infrastructure, license granting systems, driver training, supervision of standards, technical inspections of vehicles, etc. They are usually less safe than those we can find here in Spain.
Out of curiosity, do you like motorcycles?
Yes, I had motorcycles and, above all, fondly remember a Suzuki Bandit 400 that I drove around Zaragoza. However, several years have gone by.
When talking about road safety, motorcyclists are one of the most vulnerable groups along with pedestrians and cyclists. What are the steps you think should be taken to continue improving their situation?
A person on a motorcycle is extremely fragile, especially with increasing speed. We can do many things such as wearing a helmet, appropriate clothing, letting ourselves be seen with the light or appropriate clothing and being very cautious when driving because an accident in a car is completely different than an accident on a motorcycle. If our fragility is ten times greater on a motorcycle than in a car, our precaution should also be ten times greater. One example is defensive driving, controlling the surroundings, paying greater attention and having better training.
Are things being done well from the administrations, specifically in this term with María Seguí as the General Director of the DGT (Traffic Agency)?
The truth is that while there continue to be accidents, there is still a lot to do. In countries improving the numbers, there is a tendency of complacency and relaxation. Nevertheless, the problem continues to be very important and, if not, they should ask every family who has suffered a serious accident. I am criticizing neither the past nor the current management of the DGT (which has done many great things). Rather I am requesting that they continue carrying out driver-training related actions and improving infrastructure even though, evidently, we know that each curve cannot be guaranteed one hundred percent.
"Our fragility is ten times greater on a motorcycle than in a car"
There are manufacturers who make more advances in safety each year. Are they doing enough? Should the administrations force them with more requirements such as requiring ABS in motorcycles starting in 2016?
Vehicles are essential when talking about road safety and there are different ways to encourage it. One of these is legislation such as the imposition of safety requirements. It is very effective because it affects all vehicles from a given time. However, it is gradual and very slow. Therefore, the participation of brands is essential. Even though ABS will be mandatory, there are brands that have been offering the system, even as a standard, for quite some time. We should also encourage demand, provide information on those systems and give them value. Another example is eCall, a system that we think is very important.
Nevertheless, eCall will be mandatory for cars in 2018 and not for motorcycles.
Motorcycles have been left out of this obligation even though we think it is very important that it be introduced. We also have to take into account the technology of other vehicles such as, for example, the technology of cars that can detect motorcycles at intersections. In this way we can achieve cooperative driving since it is not only about what the motorcycle can do but what other vehicles can do for the motorcycle.
Institutions such as FM do their part with studies and awareness-raising initiatives such as Goal: Zero on motorcycles. Tell us what it consists of and what its goals are.
This initiative aims to encourage the discussion of motorcycle riders on improving road safety and that the group of motorcyclists establish and lead this discussion about legislative and technical developments or what it has to do with safety from the group itself.
Can we really aspire to this Goal: Zero or do we have to accept that it is only a dream?
We are convinced that it is a goal that can be met. Unexpected things can always happen but, in our studies, we find specific causes and factors behind the accident and also identify the tools to prevent it in the end. It is true that there is the "impossible accident". These are very rare, but after analyzing it, you can explain them.
Many can say that it is a fantasy. I remember when, ten years ago, many thought (including myself) that it would be impossible to reduce the number of accidents in half and we did it. However, it is necessary to be aware that the safety of the motorcyclist depends on the speed and capacity of resistance of the individual.
"We can achieve cooperative driving with the collaboration of car and motorcycle brands"
Precisely, the increase from 120 to 130 km/h will enter into effect soon as the maximum speed on some parts of the highways. Do you agree with this measure, taking into account that it will be on "very safe" sections?
We think that it is sufficiently demonstrated that in general, at a greater speed, there are more accidents. Therefore, we are a little concerned especially if the conditions of these sections are not improved. There is an argument in favor of it. The argument is that it can have an attractive effect on drivers from other conventional, less safe roads. Nevertheless, that remains to be seen.
If the helmet, in addition to being mandatory, seems to be a safety accessory widely accepted by motorcyclists, should other clothing items or accessories be mandatory on the motorcycle?
At this time, we do not suggest that any specific clothing be mandatory aside from the helmet but we do think that all of them are necessary (jacket, boots, pants, gloves, etc.). I would dare to say that their importance is not emphasized enough. One example is that in some Latin American countries, it is mandatory to wear goggles if the helmet does not have a visor. It is interesting to think about these recommendations.
Regarding education, the inclusion of a "road education" school subject has been talked about for years. Would it be positive for future drivers or is it not the appropriate place?
Road education has been talked about for 80 years since it appeared in the first traffic law of Spain in 1934. It continues to be a cross-curricular subject that we supported with workshops, materials, books and online resources of Fundación MAPFRE. Everything for the good of road safety seems positive and, if it were a mandatory subject, it would be a step forward. However, including what we have now, many things can be done such as provide content, time and resources to train teachers. Beyond making it mandatory is the question of how this subject is taught.
"Many think it is a fantasy; we believe in Goal: Zero"
Let's continue with young people. What do you think about the moped as a first vehicle? Many see the fact that the access age has been moved from 14 to 15 years as negative.
There are two aspects here. One is the progressiveness in accessing the motorcycle which is very important. It is not the same riding a small moped as a high cylinder capacity motorcycle that requires significantly more experience. The other is that the risk is greater than in other vehicles and taking into account the maturity of an adolescent, there can be certain doubts. Having said this, the moped can be another tool to involve young drivers in taking even more precautions when driving a vehicle.
To conclude, what is the first piece of advice you would give motorcyclists?
Anticipation. They should drive preventively in terms of speed, distances, when in a hurry, etc. Never trust in what the other vehicles and environment will do.