Gravity and fragility
Enrique Juncosa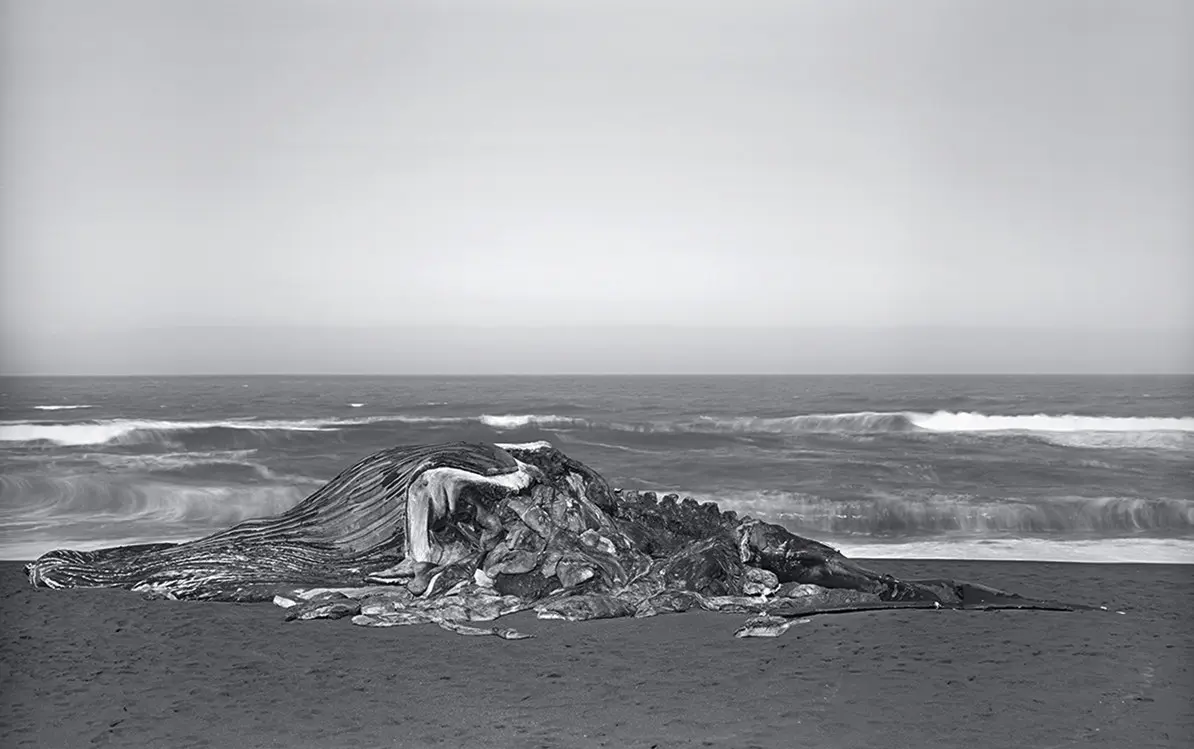 Richard Learoyd
Whale, Pacífica [Ballena Pacífica], 2015
© Courtesy of the artist and Fraenkel Gallery
Richard Learoyd, represented by the
Fraenkel Gallery de San Francisco
, is renowned not only for his still-life photography and large-scale portraits and nudes, but also for the direct way he deals with themes that we might describe as unpleasant, such as a decapitated horse's head, octopuses hanging out to dry, or the decomposing body of this stranded whale on a Californian beach, 
Whale, Pacifica
 (2015). Working with the
camera obscura
,  method, which requires an extremely long exposure time, Learoyd manages to portray his sitters in a relaxed, immobile state, sometimes almost as if they were lifeless. His still-life photography, on the other hand, continues the allegorical tradition of the genre that refers to the transience of everything and the corruption of the flesh, a theme that has been addressed in Spain from Valdés Leal through to Miquel Barceló. 
Whale, Pacifica
also belongs to a recent series of
black and white landscape photographs
, that have a mysterious aura thanks to the exceptional quality of the images, with almost no grain. In recent years,
Learoyd has been working with a camera obscura on wheels, his own invention
, which by towing behind his car like a trailer has allowed him to get out of the studio to reveal, as he does here, some really unusual properties in landscape photography. It is worth remembering that Learoyd graduated from the
Glasgow School of Art
, dwhere one of his lecturers was
Thomas Joshua Cooper
, the creator of some highly acclaimed black and white photographs of nature in the wild in remote locations.
The town of Pacífica, very close to San Francisco, is famous for always being shrouded in fog, and its beaches are very popular with surfers. In California it is common to spot all kinds of different cetaceans, depending on the season, such as the grey whales that migrate from Alaska to Mexico every year, as well as orcas, humpbacks and giant blue whales, among others. Nobody knows the exact reason for the stranding of whales, although it is believed that it may be related to the disorienting effect of the use of sonar in naval exercises. Learoyd's whale, at first glance, appears as a beautiful image of sumptuous textures, like a wooded hill in a landscape or the rocky sediment of a craggy escarpment. It also reminds us of certain sculptures of the 1960s and 1970s by artists such as Lynda Benglis and Barry Flanagan, who created sculptural volumes based on the physical characteristics of their materials, such as paint and sand, by simple processes such as pouring them directly onto the ground to create piles of matter. When we realize that what we are actually looking at is a dead whale, the meaning of the image becomes much more complex than a simple technical exercise. This is an image of both the power of gravity, which crushes the inert whale's body into the sand, and the fragility and vulnerability of its body and its life, something that not even the most powerful of animals can escape. These monumental mammals have also become the emblem of the fight against climate change and environmental damage, which might be responsible for the emergence of these new and devastating diseases we are currently experiencing.
Enrique Juncosa, is a writer, exhibition curator, and art critic. He was the director of the Irish Museum of Modern Art in Dublin from 2003 to 2011. He was also the deputy director of the IVAM in Valencia and the Museo Nacional Centro de Arte Reina Sofia in Madrid.