The Walking Man. Does it inspire you?
Tell us how you feel about these twin works of art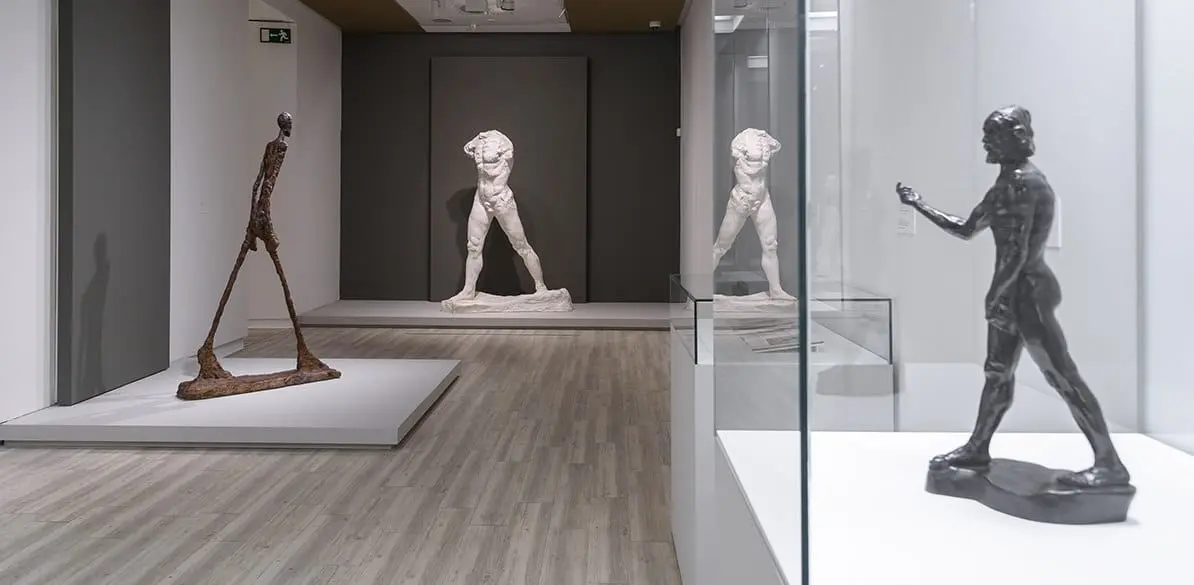 In 1907 Auguste Rodin worked on his piece The Walking Man and, years later, following the artist he considered his master, Alberto Giacometti made a sculpture with the same name. The French artist's sculpture is a strong man emulating the bodies of sculptures from ancient times. The Swiss artist's sculpture on the other hand, seems more fragile, tall and thin, as if to fade away. However, both stand on thick foundations in the act of walking, they are the man who remains standing when faced with adversity, the universal symbol of humanity.
This week we would like to ask you to reflect on and share with us how you feel when looking at these sculptures. You can do this through a poem, a micro-story or even a few short phrases. Here is a brief article dedicated to these works of art that, without a doubt, expresses some of the feelings and emotions that we are experiencing these days.
"A Giacometti exhibition is a whole village. He sculpts some men who cross a square without seeing each other; they are hopelessly alone and yet they are together".

Jean Paul Sartre.
After the events of World War II, it seemed impossible for most European artists to continue on the path of traditional representation, as the avant-garde had already warned. The path, at least for most of them, now seemed to be another. Pain, anguish and loss seemed difficult to reproduce through mimetic representation, since there was a danger of falling into decorativism, into "the trivialization of evil" and at the time, it was necessary more than ever to narrate, to tell the sequence of events, to record and protect the memory of the events that were taking place. We mustn't forget that art is largely moral and in this sense it can become a testimony. In order to represent a memory, the language used had to be full of content and many of the works of art now became images that did not resemble or did not have to resemble the object they refer to, but which, in spite of everything, they undoubtedly did represent.
The first version of The Walking Man by Alberto Giacometti, is from 1947. This date leaves us no choice but to think that its representation, not mimetic, is imbued with the pain of an entire society devastated by the Second World War and the Holocaust. Often there are no words to write, the horror is too overwhelming and we are silenced. The existentialism of Sartre, of Albert Camus, the words of Samuel Becket, all of them, with which Giacometti was associated, are all related to this movement. As do many of Giacometti's works from this period: elongated and fragile women, who stare with their big eyes at whoever wants to contemplate them, tall men, extreme in their fragility, who nevertheless stand on thick bases and walk silently, they walk ahead in a gesture that has become a symbol.
On the 18th of last month, Pepa Bueno wrote an article in El País about The Walking Man (Acantilado), a book that narrates in a few pages the difficulties of Giacometti's work of the same name, and recalls the words of its author, Franck Maubert, "Walking is a liberation. Defying gravity while being submitted to it. To walk is to be, to exist, to think… with each step there is hope, a sense of freedom".
Today, more than ever – although it shouldn't only be today – the Italian-Swiss sculptor, who began with the majestic sculpture that Rodin made in 1907 – entitled The Walking Man-, to make another less majestic one perhaps, but just as imposing in delicacy, reminds us that we must keep on walking. Whether we walk in our homes, in our heads or in silence, in an applause or in shouting, we do it to be free and to keep going. Keep walking and stagger, stand up again, together, walk standing still, like "The Man Walking" by Auguste Rodin and Alberto Giacometti.
We encourage you to participate and share it with us!
#CreativeChallengesFM #stayathomeFM