In the Eyes of Paul Strand
We reveal the keys to the Blind Woman photograph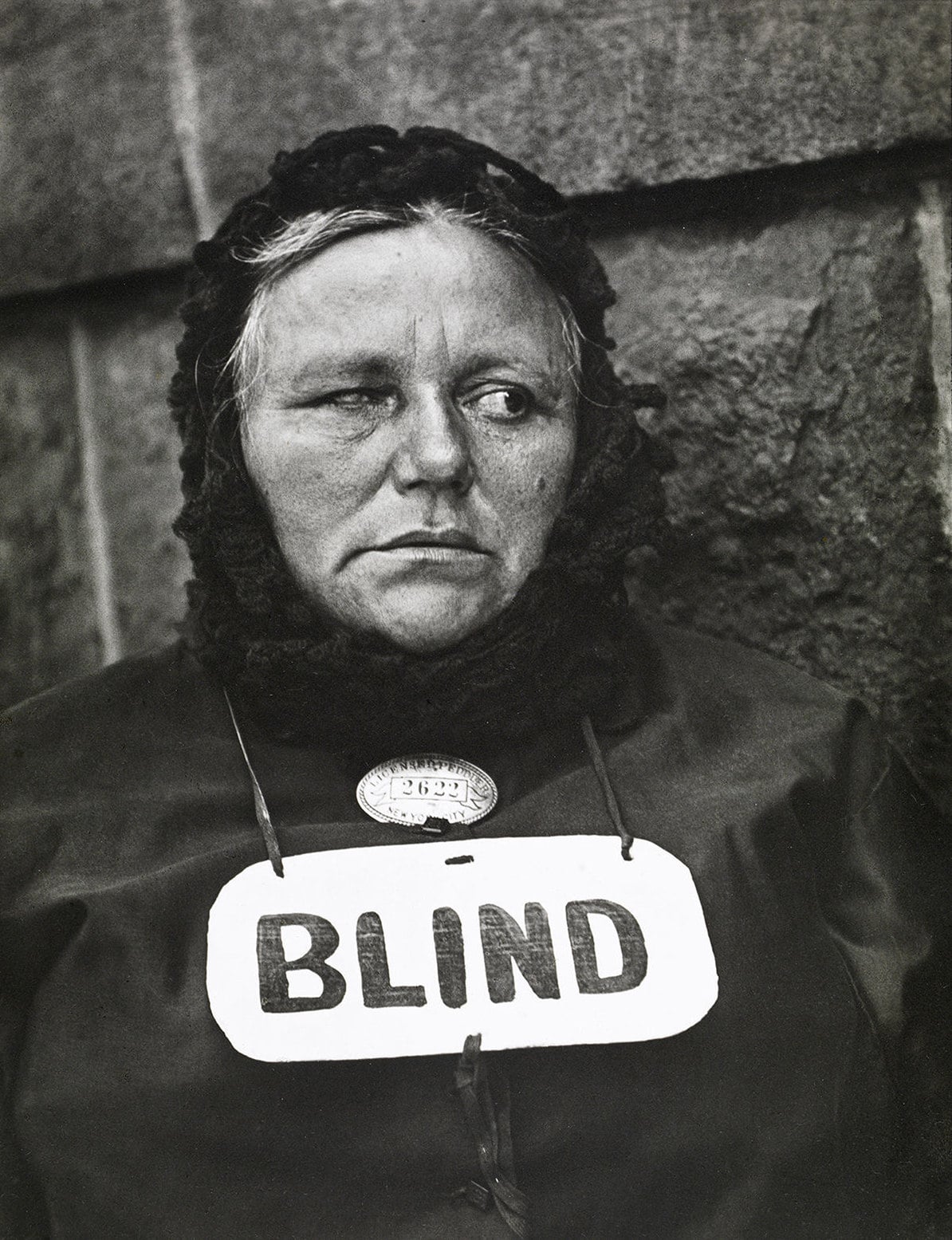 Paul Strand
Blind Woman, New York, 1916
© Aperture Foundation, Inc. Paul Strand Archive
© Fundación MAPFRE Collections
Paul Strand (New York, 1890) is, without a doubt, one of the artists who is best represented in the Collection. In addition to the considerable number of works in the collection – 134 – it boasts the good fortune of representing every period from his immense photographic legacy. The vast majority of them are period copies, though some are from later dates, but they were always done by the photographer in the years after the photographs were taken.
One of the oldest photographs in the collection is one of Strand's earliest and most well-known portraits: Blind Woman, from 1916. We'll take a closer look today at this image that became an icon of his entire oeuvre and, indeed, the history of photography. Strand had been gradually shedding the aesthetic armature of his earlier compositions in favor of more direct configurations, not only integrating the built environment but also capturing the tempo of urban life in the flow of people's movements. This approach introduced a documentary element into his work and a foundation of ordinary, everyday experience that would become a crucial ingredient of twentieth century urban photography.
Just as he displayed an evident originality when he transferred these ideas to photographs of the city, of objects, or details of almost abstract shapes, Strand also aroused surprise when, in 1916, he shot a group of portraits of anonymous people from the very lowest social strata, taken on the street, specifically in Manhattan's Lower East Side, which were imbued with an unprecedented spontaneity and candidness. These were close-ups concentrating on facial expressions, simple and direct, with an intimate sense of proximity, because the subjects had no idea they were being photographed; nothing was set up as they were taken with a 'trick' camera (a false lens on the side of the camera gave the impression he was looking the other way, which allowed him to catch the subject off guard and avoid any kind of preparation or posing), conveying a clear social intention. There is no doubt that Blind Woman stands out among them for its intensity. Stieglitz introduced Strand in Camera Work thus: "Paul Strand's work is rooted in the best traditions of photography. His vision is potential. His work is pure. It is direct. It does not rely upon tricks of process. In whatever he does there is an applied intelligence. […] The photographer who has added something to what has gone before. The work is brutally direct. Devoid of all flim-flam; devoid of trickery and of any 'ism', devoid of any attempt to mystify an ignorant public, including the photographers themselves. These photographs are the direct expression of today, and that is why we are reproducing them here in all their brutality." Strand, too, was affected by the power of his portraits and it was years before he returned to take other similar ones, although ordinary people and direct portraits became a constant feature of his work. With them, the artist laid the foundations of modern photography and anticipated the postulates of what, by the end of the following decade, would become known as 'straight photography'. Strand himself wrote in Camera Work: "Photography finds its raison d'être, like all media, in a complete uniqueness of means."
Carlos Gollonet, Head Photography Curator, Fundación MAPFRE.