Naked Woman
Picasso conjures up an indefinite, timeless space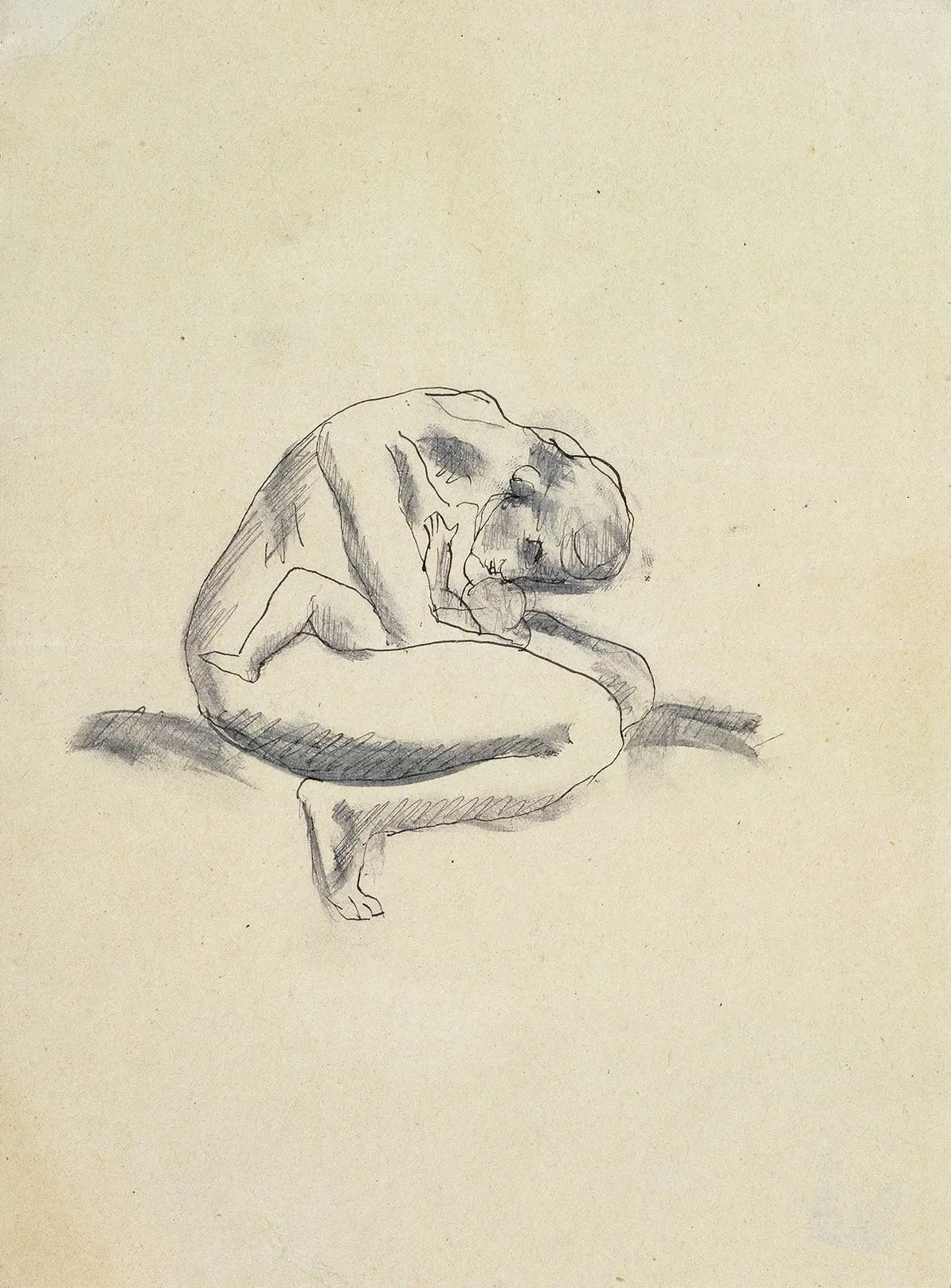 Pablo Picasso
Maternité [Maternity], 1902-1903
© Sucesión Picasso, VEGAP, Madrid, 2020
© Fundación MAPFRE Collections
In 1900, Picasso travelled to Paris with his friend Carles Casagemas and moved into Isidre Nonell's studio. His work quickly became filled with embracing figures, ebullient scenes, street markets, café interiors and dancers inspired by Toulouse-Lautrec. During his stay in Paris he rubbed shoulders with most of the Spanish artists who flocked to the French capital, gradually forming what would become known as the Spanish colony in Paris. After two months he went back to Spain, returning to France in 1901 on the occasion of his first exhibition in Paris with Francisco Iturrino at the Ambroise Vollard Gallery. Over a period of time, Picasso painted motifs related to the underworld for which he used cool, bluish tones. At the same time, his figures became elongated, reminiscent of those of El Greco, to the point of almost becoming symbolic characters. This stage of his art, known as the Blue Period, encompasses some of the Malaga-born artist's most representative work, such as the famous Self Portrait, on show at the Picasso Museum in Paris, portraits such as La Celestina (1904), and the acclaimed Woman with Cap. For this last work he was inspired, as in the Maternité portrait, by the incarcerated women he observed on his visits to the women's prison and mental hospital of Saint-Lazare, near Montmartre. This naked woman, devoid of the head covering that was usual for women in this situation, holding her baby in her arms, perhaps cradling it, and taken out of all context, conjures up an indefinite and timeless space and evokes the tenderness and care of a mother, of all mothers.
"Dear, dear Paul! Yesterday and today I thought a great deal about you – or about us, if you will. I am not writing to you because I want you to write again, but because it gives me pleasure and because I want to. I had also planned to meet you somewhere in Paris very soon, but then my stupid and vain sense of duty kept me here and I did not leave. What does this mean anyway – 'somewhere in Paris'? I don't know anything, but I do think it would have been lovely somehow. Three months ago someone suddenly gave me your book of poems as a gift. I didn't know it had come out. That was so… the ground was so light and buoyant beneath me, and my hand was trembling a little, just a very little bit. I still do not know what last spring meant. (You know me, I always want to know everything very precisely). It was lovely, and so were the poems, and the poem we made together.
[Today you are dear to me and so present. That is what I want to tell you at all costs – I often neglected to do so during that time. I can come for a few days as soon as I have time. And would you want to see me? One hour, or two.
Much, much love.
Your Ingeborg".
Ingeborg Bachmann to Paul Celan, Vienna, Christmas 1948, not sent.
In "Heart's Time, A Correspondence. Ingeborg Bachmann-Paul Celan", 2012